Château de La Vigne
May and Guy
Château de La Vigne, Can you imagine a bigger life change than swapping the grind of a daily 6am commute to London for the French countryside; looking after a château and its 8-acre grounds?
That's what Guy did when he and his wife May moved to the Loire valley full time in the spring of 2020. But although he's officially retired, he's found himself busier than ever!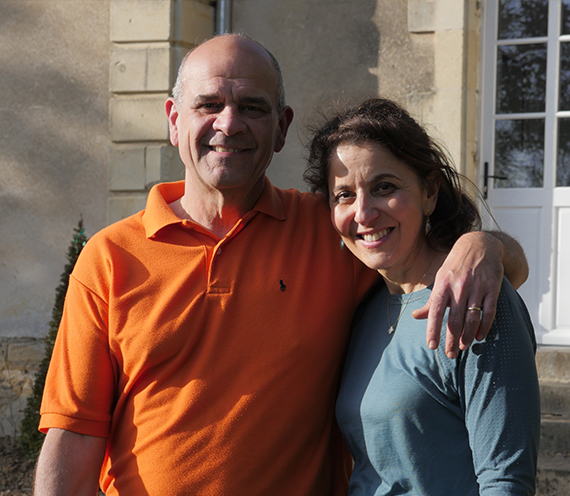 Château de La Vigne, Originally a second home
May and Guy originally bought the château, that includes the Coach House and the Farm Cottage in its grounds, as a second home in 2001. It was an idyllic setting to bring up their three young children during the long summer holidays, where they could roam freely in the large grounds, swim outdoors and have new playmates as guests arrived each changeover Saturday.
Was it a success?
Whilst the children enjoyed carefree summers, welcoming guests week in, week out was exhausting for May. The weeks were a haze of washing, cleaning, gardening whilst also looking after the children, who were only two, four and six when they arrived at the Chateau. Now, as young adults they look back and agree they all had idyllic childhood holidays, even if they missed out on the typical 2 week summer holidays their friends back home enjoyed!
Yoyo to the château
For years May, Guy and their children enjoyed quality time with extended family and friends whilst tackling the many chores and maintenance work in the château during the holidays. Guy was more restricted in his movements, because he needed to be in the office in London, where he worked in finance but spent many summers travelling back and forth over the weekends. May's work as a nutritionist was a little more flexible, as she could maintain much of her work remotely online. She soon found a way to combine the two, converting a derelict outbuilding to a stunning yoga studio and running the first of her successful yoga and wellness retreats from the chateau in 2016. Retreat guests staying at Chateau de la Vigne enjoy a complete package; they eat delicious, nutritious food, unwind and relax in the beautiful grounds and serene countryside of the Loire Valley in central France.
Moving in full time
In Spring 2020, when the couple moved to the property full time, May and Guy were finally able to focus on many ideas they'd dreamt of doing. Guy has embraced his new lifestyle, learning new skills as he tackles big projects, re-landscaping and transforming the chateau grounds and pool area with May's help alongside her nutrition work. Guests now enjoy full access to the yoga studio during their stay, which also offers a separate space for youngsters to enjoy or teenagers to gather, as well as large entertainment areas for alfresco living, surrounded by more formal grounds to complete the full chateau holiday experience.
Poor timing?
Is there a more unfortunate date to move in permanently than 2020?
It was the start of a worldwide pandemic, lockdowns and travel restrictions between countries. And it was a concern, as many of the couple's summer UK bookings were cancelled, but they were thrilled to welcome guests from all over Europe as travel restrictions on the continent eased.
Embracing the challenge
May and Guy relished the opportunity after the summer season to continue with upgrading and renovating the properties; which they would not have been able to do to the same extent if they were still living in the UK. They have been able to focus their attention 100% on refurbishing the chateau and gites with a new, fresher look as well as major work in the grounds, with their guests' needs and comfort foremost in the decisions.. When business returns to some sort of normality, May and Guy think visitors will be wowed by the new renovations.
Finding an opportunity in a pandemic
Covid-19 has even given May an opportunity to develop her business.
She has set up her nutrition membership community online, and is very comfortable working with modern technology, as are her many clients. Running her business remotely during the pandemic has been such a success, that she's now confident that she can work from the château on occasions, whilst also allowing her to embrace her role as châtelaine at Chateau de la Vigne.
What do the guests want?
May's improvements and renovations are frequently based on what she thinks her guests' need.
When her kids were still teenagers, she realised that for her and Guy's own sanity they needed to provide a range of attractions for guests of all ages. They invested in a range of bicycles, pool table and table tennis, outside and indoor games and of course the heated pool!
Weeding
Aside from ongoing renovations on the château its expansive grounds take up most of the couple's spare time. There's weeding, pruning, chopping back, repairing, and more weeding to be done. It's a never-ending task, as soon as the grounds have been done, it's time to start again during the growing seasons.
Finding good tradespeople is a challenge
One of the biggest hurdles the couple have had to overcome is finding good tradespeople to help with their projects. It's hard enough to secure the right people to do a job in England, but the task is made immeasurably more difficult if you do not understand the culture and struggle with the language. Initially the Simpkins found that people assumed they had the work by simply turning up to inspect what needed to be done, and the chateau seemed to attract high quotes, and then tradesmen didn't even turn up when they were meant to be booked in. Explaining what was needed was tricky but securing a firm date when the work would be carried out was a nightmare. In the end you learn and adapt to their way of operating.
It's taken some time but now they have a network of tradesfolk that they can rely on. But crucially this includes skilled artisans that can help them restore and maintain the chateau in keeping with its original style and beauty.
Top tips
May and Guy's top tips for those thinking of buying their own château in France. Do as much online as you can; utilities, insurance, banking, telecoms, internet etc.!
Communicate with local tradespeople as clearly as you can, accept that dates will slip and try and find someone you trust who can then provide recommendations.
This is all infinitely easier if you learn to speak the language first! Locals don't tend to speak much English. So it's not just work people who you won't be able to talk to – the local shops and stores might struggle to understand you either. Nor will the French authorities – dealing with the local bureaucracy and their rules can be problematic even when you do know what they're talking about!
Think big
They also strongly urge anyone moving to a property as expansive as theirs to consider buying or hiring tools to help – they bought a second hand dumper truck and mini digger. Clearing huge areas is much easier with the appropriate machinery and May and Guy can't believe how frequently they have had to rely on their mechanical help.
Location, location, location
Other considerations to bear in mind when you're considering your move, is its proximity to local supermarkets, points of interest, as well as airports, train stations and towns/cities. Remember, they say, that it's not just for your convenience. But it's also the sort of things that guests will consider if you are going to open your château to visitors as a business. Large groups tend to shop daily and having an incredible supermarket complex 5 mins away is a huge bonus.
The TV show is helping attract custom
Château DIY has been a catalyst for their business with viewers seeking out the Simpkin's château after seeing them on TV. The château offers health retreats, run by May as well as self-catering holidays, with large family groups of friends or family the most frequent visitors.
Living the dream?
Whilst May and Guy are certainly fortunate; enjoying an idyllic existence in their magnificent property in the Loire Valley, it's certainly not a long extended holiday! Because although it's fun living in the Château de la Vigne, not everyone realises how much hard work is relentlessly needed to manage it.
Château de La Vigne Services
yoga retreat, pilates retreat, short stays, long stays
Booking Enquiries
Find out more or to book a stay – contact the owners here