Chateau de Seguenville
Becky and Mark
Chateau de Seguenville, When Becky and Mark chose their Chateau in southwest France, about an hour's drive from Toulouse, they worked out almost everything.  The location was right, the views were spectacular, the property was majestic, and they had bought the building for an excellent price. They'd also included the running and renovation costs in their calculations. But, as they discovered after they moved in, there are some things in life you just can't plan for.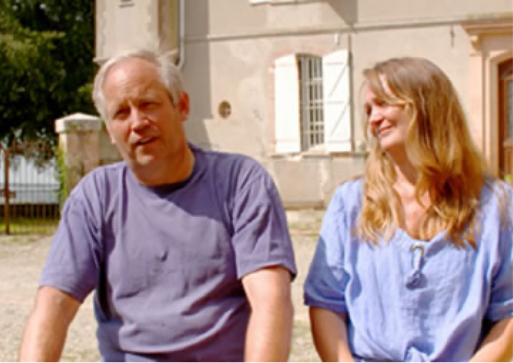 Do you choose a Chateau de Seguenville for where it is, or what it is?
When people move home in the UK, they tend to buy somewhere not far from where they're already living. That way they can stay close to friends and family, and it's less of a disruption. If you decide to buy a château in France it's different.
Unless you've friends or relatives you want to live near, you can pick and choose where to buy. But do you start looking at an area you want to live in? Or do you pick a property first?
Finding the right climate
Mark spent an extraordinary eight years looking for a property for the family online. At the time the family were living and working in the United Arab Emirates and they wanted what they described as the "ideal climate". So not as hot and dry as the Middle East, but definitely not as wet and miserable as England. The Champagne Region, just east of Paris, seemed a good option.
Finding the right Chateau de Seguenville
They liked the area – and they liked to drink Champagne. However, they couldn't find the sort of building they wanted – something old with character and interesting history. They soon realised there were few suitable properties that met their criteria in this part of France, so they started to look further south, driven initially by the beauty of the buildings and their surrounds but over time learning more about the people in different regions and the balance between idyllic isolation and convenience of proximity to supermarkets, DIY stores and neighbours. This led them to explore options close to the Spanish border and SW France, whilst also considering the rebuilding and running costs.
Where's the nearest station?
As well as the region and the property itself, there were other factors to consider too. For example, it needed to be near to a town, a good school and a train station. With Mark still working in the UAE it needed to be close to an airport too.
Slowly does it
It's easy, the family say, to be mesmerized by a Chateau de Seguenville features.  
Combine that with a price that at first sight looks fantastic compared to the cost of property in the UK.
Their advice is not to rush into a quick decision, but to work out exactly what you can afford. So consider the cost of the renovation. What needs to be done, what can you do yourself, what projects will need specialist help and the price of local labour.
View a property with your eyes wide open
If the property isn't immediately habitable, you'll have to factor in where you're going to stay while it's being renovated. And what you are ultimately going to do with your château – will you hire it out, have it as an event venue, host it for weddings?
The family describe it as looking at a château with your eyes wide open.
Getting warmer
In late 2017 the family began viewing properties in the area, and surveyed two châteaux they were interested in – on one they even made an offer but it fell through at the last hurdle.
This will do nicely
Undaunted they continued with their search and eventually found a château that they loved in southwest France, in a commune called Cabanac-Séguenville, about an hour's drive from Toulouse and in the shadow of the Pyrenees.
Once planning permission to build a new gite had been accepted they made the decision to buy – and this time everything went through – albeit with a nail biting time at the Notaire as the mortgage and house insurances came through at the 11th hour.
Now to actually move in
But although they'd finally bought a property, moving in was another matter. The first night was a very cold one (no fuel for the boiler) and the next morning they returned to the UK, Mark to head back to work in the UAE, Becky to help her father move from the Isle of Wight to take up residence as the "Gardien".
With George able to start living in the property immediately, it meant things could be maintained and the house was secure but Becky, Mark and their children could only make occasional visits from the Middle East, though summer holidays provided welcome relief from the oppressive heat of the Middle East
And when they were finally able to join Becky's father (delayed by several months because of the pandemic limiting international travel) they endured an epic journey – flying to Frankfurt and then driving for 12 hours with children, cats and dogs in the car through Germany and France. A summer of DIY and tidying up plus unloading of 2 containers (60+ foot of goods brought over from the UAE then followed. As Winter approached, Mark had to return to the Middle-East, where he will be yoyoing between work and his new family home in France.
Unexpected challenges
Having done all their research, there was still plenty of unexpected challenges when things went wrong or needed fixing.
The original château was built in 1647 and extended in the 1800s. And some of the fixtures and features were past their best.
The boiler, for example, was 20 years old had never been serviced, so needed an overhaul. The shutters all needed taking down and repaired. The roof needed renovating. And one of the outbuildings needed to be repaired too, after a tree fell on it.
All these costs add up, and guesstimating them are part of what the family mean by buying a property with your eyes open.
Original is best
When they bought the château it was being used as a bed and breakfast, so the main house was habitable. But the family are making changes like painting and stripping back to expose original beams.
Where they find work that they consider shoddy or cheap they'll improve it if they can. The entire second floor hadn't been touched in over 50 years so work was needed. Original features are always preferred too, so for example when they discovered that the fireplace in the kitchen wasn't authentic, they added it to the plan of works – it will be pulled out to expose the original one.
Restoring the past
Because traditional is best, and their aim is to retain and restore the grandeur of the building. That means replacing the cement on the outside of the building and – depending on their state – exposing the Toulouse bricks below.
The family viewpoint is if it's old and still in a good condition don't change it – after all, it's worked for over 200 years. But they're less protective about more recent work, such as outbuildings constructed in the late 40s, which they're repainting and modernizing inside, to give guests all the creature comforts of the 21st century.
Improving the gardens
Becky and George have done an enormous amount of work in the gardens too, including stripping back all the undergrowth and building a kitchen garden. They've discovered an old hand-drawn pump they hope to have working again too and continue to find "fosses" (Wells and water tanks) and interesting features such as brick drainage channels They're introducing new technology as well as renovating old equipment, and considering green energy solutions to power the château such as a wind turbine or solar panels. But they're still considering what changes to make, and, of course everything takes time. They think they are at least two or three years from completing the house.
Tips for refurbishing a château
They say even if a job looks daunting, you'll probably be surprised what you can achieve. But know your limitations and when you need to call in professional help. And don't be embarrassed to get your friends over to help with the bigger tasks. They're easier and more fun to do when lots of people are involved. And you can always repay them with the offer of a free holiday.
It's important to the family to fit in with the community
And you never quite know what local people will think of an English family taking over a large historic property.
But Becky, Mark, George and the children consider themselves lucky to have a wonderful relationship with their neighbours – a mixture of older established French people, new French people to the area and expats. They've discovered that having small children helps to meet other families too. The Fete de Voisins where they hosted drinks was certainly a great opportunity to meet the whole neighbourhood and to help settle into the community.
Dogs and chickens
Challenges have included trying to separate the dogs from ex-farm chickens they acquired – not always an easy task. The boundary needed fencing to keep their dogs in and others out, a task completed last summer; but the chickens have learnt to get over some so keep putting themselves in places they shouldn't!
New country, same old weather!
But their biggest headache is keeping on top of the weather: repairing wind damage and keeping out the rain. In fact, the sort of conditions they came here to escape. So although the family are loving their new lifestyle, they're also proving you can't plan for everything however hard you may try.