Château du Puits es Pratx
Tim and Sasha
Sasha and Tim are a glamorous couple.
When they met on a blind date in 1989, she had a couture design business in the Kings Road, mostly designing ball gowns and wedding dresses to clients' specific requirements. He was a photographer based in one of the last commercial cobbled mews in South Kensington.
That blind date must have been a good one.
Over 30 years later they are still together, running the Château du Puits es Pratx with the help one of their children in the South of France.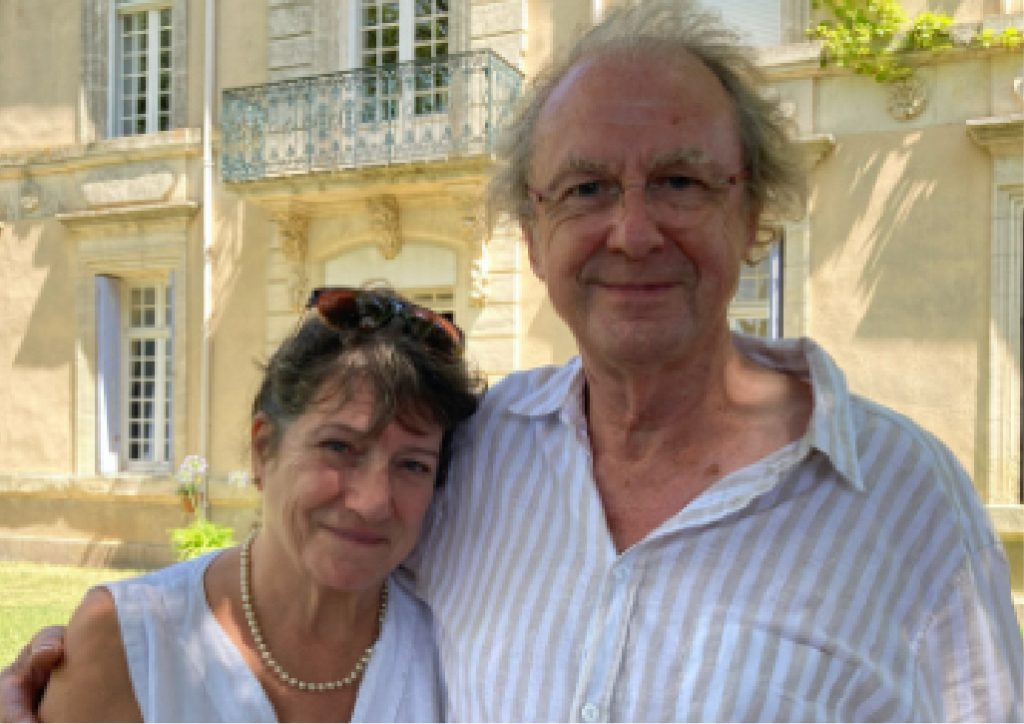 Château du Puits es Pratx, Blame the kids
What makes someone decide to leave whatever they're doing in the UK to buy and manage a Château du Puits es Pratx in France?
For some it's always been an ambition and they are following a childhood dream.
Others are tempted by the low prices of property compared to Britain.
A few decide to give it a go after watching the Château DIY show.
But Sasha and Tim were led into it by their son.

Can I borrow some money dad?
In 1999 one of their son's left art school to work with an old school friend whose parents were renovating an old wine-making building into gites. They enjoyed the experience so much that they set up a company to renovate old French properties and Oliver asked his father to invest in it. Without cash to hand over, they decided it would make better sense to buy a property in the region as a holiday home, get a loan and then pay their Son and his business partner to renovate it.
Problems
After searching for suitable properties within budget, they bought an old stone wine maker's barn for around 25,000 euro that needed another 80,000 euro to make it habitable.
What could go wrong at that price!
Unfortunately everything. Firstly Oliver fell in love with an old friend in England and decided to move back to the UK to marry her.
This left Tim and Sasha with trying to find some reliable French builders to start the work.
It gets worse
As it turned out, the builders weren't the best in France and their errors almost brought the entire property down.It took three years before the building was habitable. And Sasha and Tim never spent a solitary night in it.
Catching the Château du Puits es Pratx bug
So did that poor experience make the couple give up on property renovation in France? On the contrary, they were hooked.
Through the grapevine, they heard that a beautiful old winemaker's Château du Puits es Pratx was on the market for a temptingly low price. They went to view the property to see why it was being sold for so little. But they couldn't find a reason. Instead what they found was a château and grounds that they totally fell in love with.
Château du Puits es Pratx
Château du Puits es Pratx consists of the château itself, a very large building ('Cave') where the wine used to be made, various outbuildings where vineyard workers lived, and the focal point in the center, is a stunning courtyard.
They made an offer, it was accepted, and a year later in 2003, they moved in.
Planning a trip to France?
You keep paying out
When you buy a château it's important not to simply look at the amount it costs to buy when you are working out your figures. They can be enormously expensive to run – the heating alone can cost a small fortune, plus there is usually expensive renovation work to consider too.
Slowly going down
Tim and Sasha decided to run creative courses that they thought would cover their costs.But it wasn't enough.
So they decided to open as a Chambres d'Hôte (which means bed and breakfast if your French is a little rusty).
But that again wasn't enough to afford the cost of general maintenance, let alone further improvements.
So, Sasha and Tim upped their game and converted many of the building's cottages to accommodate larger self-catering groups to whom they offered their creative courses in photography and painting as an additional attraction.
This combination was a lot more successful but it was still only a 'summer' business.
Weddings are the answer
After four years of the business evolving they needed to find alternative ways to increase turnover and in 2007 they began to get enquiries, mainly from the UK, to host weddings.
It wasn't an area that Tim had much experience and he'd only attended 2 or 3 weddings in his life and 2 were his own!!
However Sasha, who had worked on many from her time in the fashion business, felt totally confident that they could organise and host them.
Just one tiny problem
Tim and Sasha booked five weddings at the château in 2008 and along with the usual holiday bookings, this would help to put them into the black.
There was just one minor problem. Before they could host any wedding, they needed to convert the old 'Cave' building into a reception hall and restaurant, and provide a 'party' room or a wet-weather option should it ever be necessary.
Leaving it tight!
Sasha and Tim had to borrow money for the renovations needed to convert the large hall to the required standards.Then there was French bureaucracy to be circumnavigated, planning permissions that needed to be agreed, designs to be made and, of course, the actual renovations that needed to be completed.It took five months to get ready, and they finished one day before the first wedding guests arrived!Since then they have added to their wedding business year after year, and they have now hosted up to 27 weddings over a 12 month period.
Just when you think you've made it
The business seemed to have been saved.Then came Brexit.80% of the Château du Puits es Pratx weddings are from Britain.And in 2016, as the UK divorced itself from Europe, uncertainty meant enquiries fell dramatically.By this time wedding was their core business.And once more they looked to be in peril.
Hotels are also us
Once more Sasha and Tim were saved by finding a different source of income.This time as a hotel.They are now even in the final stages to gain a 4* rating – and numerous bookings.Having this alternative source of revenue also meant that they could continue making money throughout the year too. As weddings are seasonal, and while people tend not to get married in winter, the hotel still picked up business.
Let's make a meal of it
They've had another source of regular income for quite a few years too – as a restaurant. It's now as fundamental to their business as the hotel and weddings. And – the ultimate compliment to Exec. chef Sasha and Chef daughter Lily – the French love eating there.
Getting assistance
As Sasha and Tim expanded the business, they'd also expanded their employees.
First off, in the first couple of years of opening up the business they met Stephanie who's French but speaks perfect English and she's been an invaluable help to the couple.
Most of the hotel guests and restaurant diners are French, so she's the ideal person to help make guests feel at home, and to translate where necessary. (Especially in the early days, when Sasha and Tim were less fluent.)
The Daughter joins

Lily, the couple's youngest daughter studied a course in cuisine and joined the business five years ago. She now runs the kitchen and has taken over most of the wedding planning, and along with her partner Luke who helps Stephanie with the day-to-day running of the hotel, this has allowed Sasha and Tim to actually have some down-time since they created the business in 2003.
Tim is combining his passion for music with business

He's into jazz and funk and since the Reception Hall & Restaurant were established, they've been running summer concerts for several years, with professional bands performing – and Tim on drums if he's gets the opportunity.
Big names that have performed include Mike Garson, an American pianist who played with David Bowie, and the Norwegian band Titanic who have sold over 30 million albums worldwide. They also hosted a UK based Jazz workshop for 3 years that will hopefully continue at some point soon.
LHe's into jazz and funk and since the Reception Hall & Restaurant were established, they've been running summer concerts for several years, with professional bands performing – and Tim on drums if he's gets the opportunity.
Big names that have performed include Mike Garson, an American pianist who played with David Bowie, and the Norwegian band Titanic who have sold over 30 million albums worldwide. They also hosted a UK based Jazz workshop for 3 years that will hopefully continue at some point soon.
Time to paint too

Sasha in the meantime has had the opportunity to develop the artist in her, and is spending more and more time painting.
With a temporary slowdown in business caused by the pandemic, it seems that both Sasha and Tim have enjoyed even more time to on their hobbies.
Top tip for anyone who's thinking about buying a château to start a business?
The focus has to be on finances.
As Sasha and Tim discovered, owning and managing a massive building is a huge and on-going expense. Ignoring the balance between the huge outgoings with an income to match, could easily lead to failure.
Only just staying in the black

They both consider themselves more as 'creatives' than business people, and had no previous experience in the hospitality business. From the start they had to rely upon on all the help they could get from Book-keepers and Accountants, to understand the complexities of running a business in France.
They have also continually ploughed their profits back into the business to improve the guest's experience, but balancing their dreams with reality has always been the biggest constraint on investment. This has been a slow and at times, an uncertain process but one that has finally been rewarded by the soon-to-be-acquired, 4-star status for their hotel.
Onwards and downwards and upwards again

It's been quite some roller journey since Sasha and Tim went on their blind date over 30 years ago.
And now they not only own a château, they also run a wedding business, hotel and restaurant.
No doubt there'll be ups and downs still to come but in spite of all the hard work it has been a great experience, and their positive outlook and energy has allowed them some satisfaction in seeing the business grow into what it is today.
If the next few years are anything like as much fun as the last 30, they're looking forward to the future with excitement.
chateaudupuitsespratx.com/en/
Château du Puits es Pratx in the South of France Château du Puits es Pratx is a beautiful and tranquil boutique hotel with Spa, close to the Canal du Midi in sunny Cathar country. Not far from Lézignan-Corbiéres, Narbonne and the Mediterranean, it is situated in the Languedoc region of the South of France, newly named Occitania.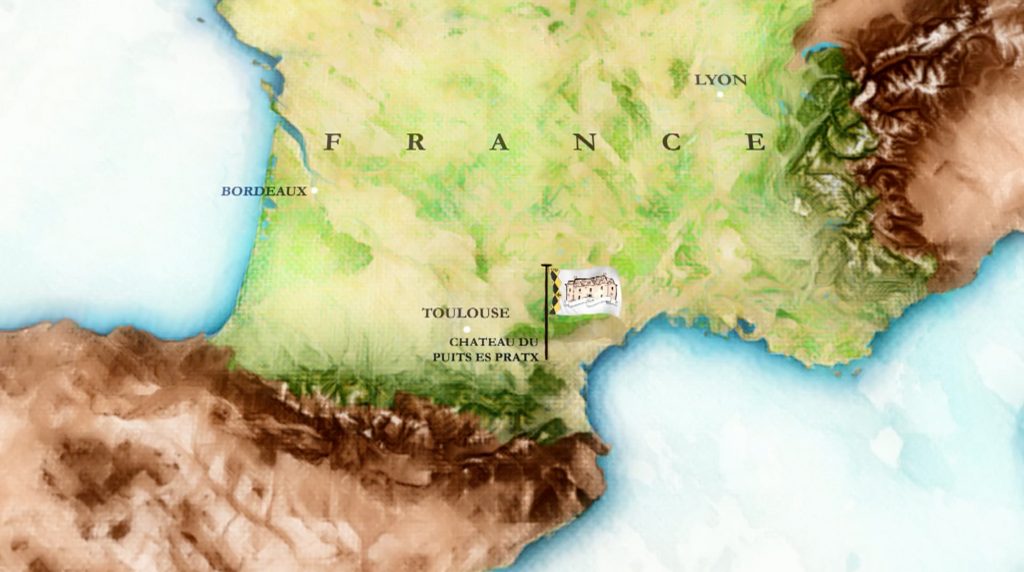 Château du Puits es Pratx Services
weddings, parties, gites, cookery retreat, stays, events, B&B
Booking Enquiries
Find out more or to book a stay – contact the owners here