Château Les Bernards
Debbie and Simon
Château Les Bernards may be the ideal property for Debbie and Simon to start their new venture, but the timing of their purchase was anything but perfect. They bought it just before the pandemic. The lockdown has hit the couple hard, but they are both confident that they will soon be successfully back in business. In the meantime they are working hard to give their property maximum guest appeal.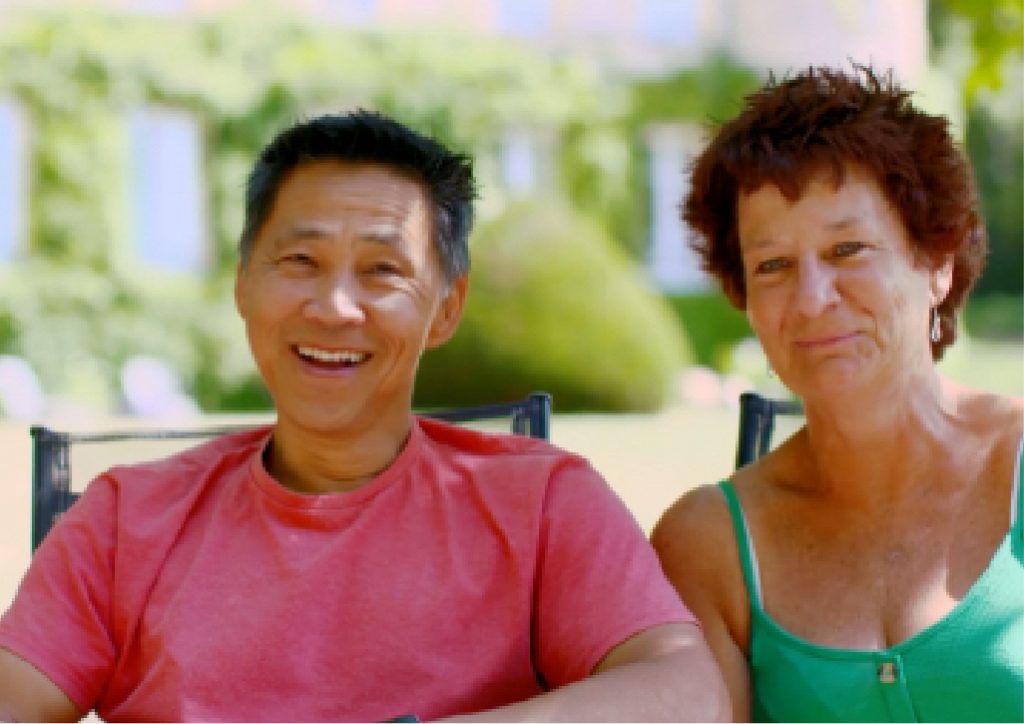 Is there a better way?
Sometimes it takes a life changing event to make people reconsider the way that their life is going. Unless we're lucky or are retired most of us have to work for a living, but few of us have a work life balance that we're entirely happy with.
Could we be doing something we enjoyed more, yet still maintain a good quality of life?
Not living life to the full
In 2019 Debbie was employed as a mortgage broker with Simon, an engineer, working away from home most of the week. Life was OK, if not slightly predictable.
Then a major health scare made them reconsider life's priorities.
Time for change
Perhaps there was somewhere more idyllic to live than in rainswept England.
And maybe there was a more rewarding work life than mortgage broking for her, or engineering for Simon. That's when they started seriously thinking about looking at properties to renovate in France. And Debbie made the decision that, rather than helping other people to buy and sell property, perhaps it was time to buy somewhere exciting for themselves.
The château and the gîte
So, in 2019 they bought Château Les Bernards and its twelve acres of grounds, in the village of Le Donjon in the Auvergne region of central France.
It was built in the 1860s and its many rooms include six bedrooms as well as seven reception rooms, not including a couple more bedrooms in the attic. The turrets have yet to be renovated – but are on the list of "to be done". The château's gîte, or traditional French cottage, has five bedrooms and is an impressive building too. Debbie and Simon's plan was to rent out the gîte for the first year then hire out the château , as a luxurious and spectacular self-catering holiday home. The challenges of the past year have meant that the renting out of the château will now be delayed until next year.
Almost ready to go
Château Les Bernards required less work to renovate than some of the other châteaux that have featured on the show. It wasn't derelict when it was purchased, because it had been maintained to a standard that people could live in. It simply needed modernisation and a few clever design ideas to bring it to life.
The château dictates the style
Debbie's plans have changed since moving into the château. She originally spent ages creating mood boards for each room which she intended to use as a guide to help with refurbishment. But she found her ideas changed when she started living in her new home – the château dictated her style.
No room for flat pack furniture
Now she has chosen French chic with a modern twist as a theme that will provide guests with creature comforts, but doesn't look out of kilter with the design of the house.
The couple find furniture and items of interest to decorate rooms in local brocantes. Luckily the couple have similar tastes. And there's one thing they both agree on – they won't fit a room out with ready-to-assemble furniture.
Everyone is happy
Family and friends are delighted to see the couple pursue their new course in life, because they can see how invigorated and happy they both are to be doing something new and exciting.
Major hiccups
So far though the adventure hasn't gone quite as smoothly as Debbie and Simon might have hoped.
They were originally told that the property was connected to mains drainage, but since they've moved in they have realised it needs a major rework. But before they could start looking into it Covid-19 came and put everything on hold.
The pandemic has made life difficult
After working all through winter to get the gîte ready for guests, they lost all their bookings for the spring but did manage to have a busy summer. Their guests mostly came from France, Luxembourg and Holland, with travel from Britain difficult.
Stuck in France
Debbie's underlying health issues have also meant she has had to be extra cautious, so she avoids going out as much as possible. It has been a challenging year with restrictions in place preventing us from seeing family and friends and long delays in getting deliveries of building supplies.
On the plus side
Although they have suffered, Debbie and Simon try to find a positive from the lockdown. Now Simon has managed to spend lots of time at their property, it has at least given them time to test everything out.
A surprise in every room
As they work their way through the château, Debbie and Simon never cease to be astonished by what they find, whether it's an old, long-hidden relic, an unexpected problem or even a pleasant surprise. For example, they recently discovered that all the rooms bar one, have new electrics fitted.
Can you DIY?
The top tip for any other couples that are considering renovating a château is that one person, at least, must be an expert in DIY. So you should think long and hard about buying a property if you aren't good with your hands. Tradespeople who can do the work for you are very hard to get hold of in France. They can also be extremely expensive.
Simon, with his engineering skills, has helped to make both their dreams achievable.
Business will eventually be as usual
Being on the show has created interest in the property.And Debbie and Simon are quietly confident that business will pick up again after the worst of the pandemic is over.Being on the show has created interest in the property.
Always something to do
Fortunately, Château de Bernard has been built so people have plenty to do to entertain themselves. It boasts a tennis court, swimming pool, games room, fields and woodland to explore. So at least the couple know that, if they want a break from renovation work, they won't ever get bored.
Booking Enquiries
Find out more or to book a stay – contact the owners here