Château La Briance
Matt and Helen
Helen is from Somerset and has a 26-year-old daughter.Matthew is originally from Poole, where both his sons still reside.The couple have other ties to Poole too. They own Poole Pirates speedway, the most successful team in British 2-wheeled motorcycle history. But now they have bought and renovated the Chateau la Briance in the Limousin region of southwest France, they'll devote more time to learning French than watching English motorcycle racing.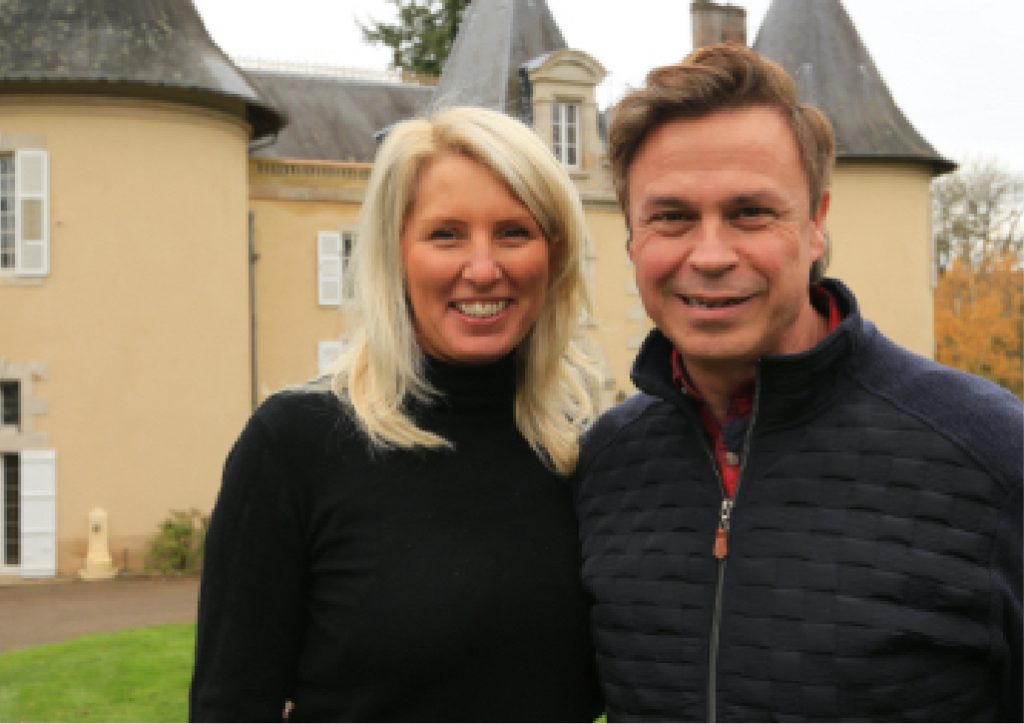 Too early to retire
Matt has always had a passion for motorsport and enjoyed a 20-year contract with Sky Sports. But over time the money he earned began to wane, and he realised that he wouldn't have enough to retire on, if he wanted to maintain his preferred standard of living.
So, while he was still young enough, he began to consider alternative ways to earn an income. And it was the Chateau shows that gave him inspiration.
Don't just watch – join in!
He'd been a devotee of the Chateau program for over five years.
Together with his wife Helen, they decided to see if they couldn't buy and manage a property in France too. Over five months they explored over 20 chateaux for sale between the Poitiers and Midi Pyrenees areas of France.
Their short list was based solely on location
The chateau needed not to be too far from a motorway, airport, shopping mall or – arguably most important of all for Matthew – a golf course.
In 2019 they found the chateau they were looking for: Chateau la Briance on the outskirts of the French countryside village of St Hilaire Bonneval in the Limousin region of southwest France
An old building with ancient owners
The chateau was built in 1740 and had two large turrets added 100 years later. Both have been converted into bedrooms. On the ground floor stands an impressive, wooden 6-metre ornate fireplace that's at least 200 years old.
These dates aren't particularly impressive compared to other chateaux you see featured on the programme of course, with some of them built 500 or more years ago.
What most surprised Helen and Matthew was the age of the owners. They were both in their 90s.
A run-down building
Equally extraordinary this elderly couple had purchased the building and had been living in it in their 70s. That's an impressive accomplishment because it takes more than money to keep a property as big as a chateau running. It takes an inordinate amount of effort too, whether it's yours or someone else's. The elderly couple had reneged on their duties a little, and entire swathes of the building had been closed off. Understandably it hadn't had the required maintenance either.
Starting afresh needs plenty of money
Basically, it meant that Helen and Matt had to restore the entire building including its countless rooms. One of the first major issues they noticed was that bathrooms were seriously outnumbered by bedrooms, with only three in the building when they purchased. That problem has been rectified now, and the chateau now has 12 bathrooms, more appropriate to its size. However, with metre thick walls to deal with, they were a very expensive addition to the property.
Restoring and adding the necessary pipework to make the chateau habitable again cost a small fortune on its own – around 250,000 euro.
Hard work and long hours
The chateau's renovation hadn't just taken a lot of the couple's money either. It's also taken a huge amount of effort. Everything is labour intensive,
All the floor boards have had to be lifted and replaced with new ones. And new ceilings put in. Although Helen and Matt count their blessings that the only major structural damage that needed rectifying was on the second floor.
It's been long hours for both, seven days a week, with little respite.
Lockdown hasn't made things easier either

Before the pandemic they had twelve people staying with them to help.
Fortunately they managed to complete all the major work before they left in October 2019.
But now it's just Helen and Matt by themselves they are having to finish off the project by themselves, and have turned their attention to the fountain, bandstand and orangery.
When they look back at what they've achieved in so short a time, they're both amazed. Those before and after pictures are going to look impressive!
Themed with historical figures
They've themed every room with a name of the most famous people relevant to French history. So there's a Marie Antoinette room, a Renoir room, a Joan of Arc room and so on – including a Louis XIV Bridal Suite. Items that are linked to the name are used to decorateor furnish. And the couple make sure everything has been tested so that it's up to standard.
Comprenez-vous?
Speaking the language – or perhaps that should be not speaking the language – has caused a few problems. They've both been trying to learn though, and even gone so far as enrolling the Mayor's wife to help. Helen though, is by far the more accomplished speaker. Matt, by his own admission, is awful. However they plan to employ someone locally to help with translations.
The top tip
The couple's advice to would-be chateau owners is simply to have a go!
It's too expensive to rely solely on outside help in France. So if you haven't got much DIY experience you soon will have. If you don't know what you're doing research online – and in their experience you'll achieve more than you imagine possible.
Opening day hiccup
The couple opened up for business in March 2020.
But they only managed 17 days until the pandemic and consequent shut down. Now they are waiting for the UK market to open again. And they don't think it will be too long before all their hard work gets rewarded.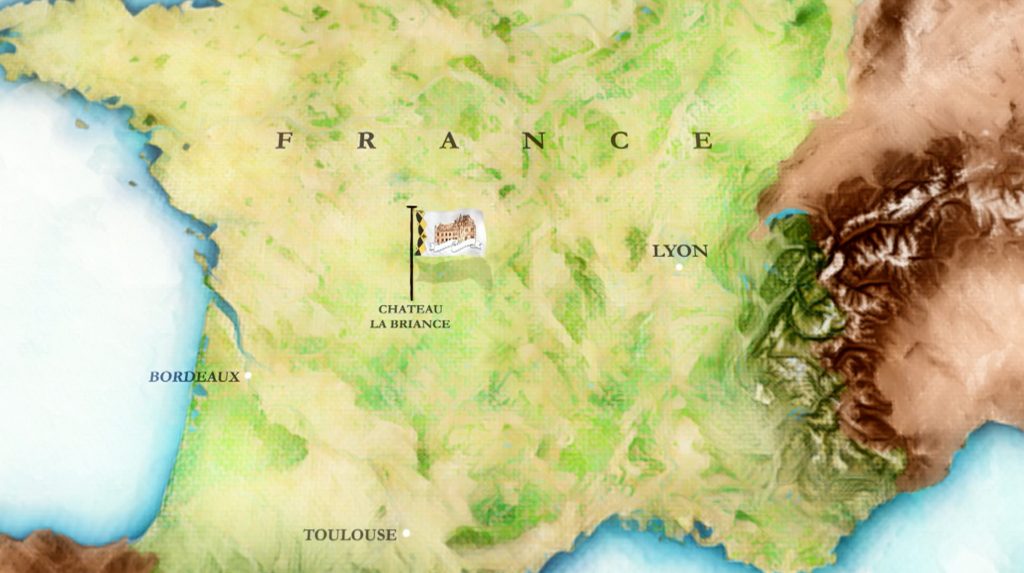 Château La Briance Services
exclusive hire, weddings, events
Booking Enquiries
Find out more or to book a stay – contact the owners here