Château de Lomenie
Ashley and Johnny
Château de Lomenie, This artistic couple live in a small village in Montpouillan, south-west France, sharing their home with a sausage dog called Abernathy and nine sheep. But this is no ordinary château. People don't come here to get married or to stay for bed and breakfast, they come to enjoy avant-garde art and antiques.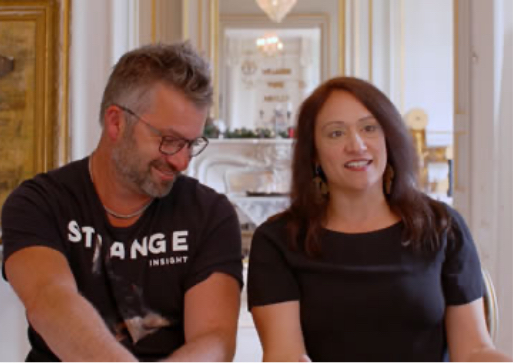 Château de Lomenie, Similar but different
Château owners come in all shapes and sizes, with different tastes and different skills. But they often have a couple of things in common.
They tend to be very practical and good with their hands. And they often come from an artistic background so have the confidence to give the property a unique stamp all of their own.
Designer meets artist
Take Ashley Adams and Johnny Darko, who met in a Pezenas, a small French village close to the Mediterranean.
She's a designer and an American TV producer who always had a dream to move permanently to France. She didn't think it was practical until one day it suddenly occurred to her that with her job, she could live wherever she liked. So why not settle in France?
Artist meets designer
And he's an artist originally from London who had lived in Australia for 13 years, where he owned his own art gallery. He missed the history, culture and architecture of Europe but after the wide-open spaces of Australia didn't want to move back to London. So France seemed the natural choice.
But if Ashley's dream was living in France, Johnny's was living in a historic property with the space to host an onsite gallery and an antiques shop.
The hunt was on
Together the couple looked at about fifteen different Châteaux but couldn't find one that not only had original features but also boasted modern amenities.
And in 2017, they found the Château de Lomenie in Montpouillan, a small village in the south-west of France and began to make it their own.
Bargain offer
They made a really low offer for 480,000 euros and were surprised and delighted when it was accepted
This wasn't going to be an ordinary château though.
There were no plans to hold lavish weddings here or to provide bed and breakfast. Instead, the couple's idea was to offer a space where events and antique shows are held by appointment only. And to host art dinners attended by art buyers who have an opportunity to purchase unusual fine works of art. An antique shop would be part of the château too.
You can be practical and arty too
When Johnny and Ashley begin to renovate and redesign the property some of the work will be simple and practical improvements but will also include creative ideas.
They plan to grow their own vegetables in an ornamental walled garden, restore the stables, paint the shutters and improve the back of the château and renovate the bathrooms and bedroom.
Controlling rising damp and termites
The couple have to devote their attention to more mundane matters too. The building had practical issues that needed to be addressed.
Rising damp is a big problem, especially on outside walls. Which is why Johnny says, if he could magically master any specific skill overnight, it would be to become an expert plasterer.
Termites were a massive challenge too. They realized the building had an infestation before they bought the property but weren't aware of its extent.
They had to literally pull up every floorboard (and have since treated the entire property and added termite traps)
Making a big statement
Johnny is also creating giant steel and timber crowns for the ground, he likes big statement pieces, for example he created a huge three metre tall oxidized and gilded bespoke mirror in their bedroom as an intriguing focal point. And sometimes when he designs, he intentionally leaves it "tarnished and aged".
The perfect complement
Johnny and Ashley were friends for a year before they were together, and although they have their own stamp and distinct ideas there is no conflict over their design preferences – they complement each other perfectly.
They even say their favourite parts of the property are the spaces that their partner had had the biggest influence in designing: for Ashley that's the gallery, and for Johnny the design antique shop.
Art gallery and antiques
The Alchimie Art Gallery consists of a series of themed rooms which the couple themselves have likened to a decaying opera house, an abandoned Château salon and an alchemist den – take your pick.
Their antique shop is called Picasso et Lump Antiques Emporium, and they regularly hunt local flea markets to stock it with interesting items. The Picasso et Lump emporium is named after the artist and the dachshund he lived with, in the part café, part brocante absolutely everything is for sale. Which means as well as the food you order, or any antiques that catch your eye in the shop, you can also buy your cups and plates, even the chair and table that you're sitting at.
chateaudelomenie.com/picasso-et-lump-antiques-emporium.html
Time machine
Ashley feels that when she walks into the lounge it's like walking back in time. It features a stunning fireplace and plasterwork, beautiful stand-out colours and doors that open into the garden.
A masculine space in a feminine space
The library and the gallery are now completed, and Johnny says the bold black and gold design gives it the feel of a gentleman's club.
Johnny says he finds the space with its huge vaulted ceilings and glass-fronted display cabinets very masculine, in sharp contrast to the Château that he thinks is very feminine in many ways.
Once the pandemic is over, they'll be up and running properly again. So, if you're in the area do try and pop in – we think you'll enjoy the show.
Booking Enquiries
Find out more or to book a stay – contact the owners here