Château Trois Cloches
Chris & Jolyon
Chris and Jolyon met when they used to work for the Foreign Office in 2008. Since they were kids, they both separately always dreamed of owning a Château, but never thought their dream could become a reality. When they were looking for wedding venues, they explored a number of Châteaux and discovered and had their wedding in a stunning Chateau near Fontainebleau. This further ignited their passion to try to follow their dreams and find a Château of their own. Château Trois Cloches is located in beautiful Upper Normandy, and includes a stunning Orangerie designed by Gustav Eiffel! It means Castle of Three Bells.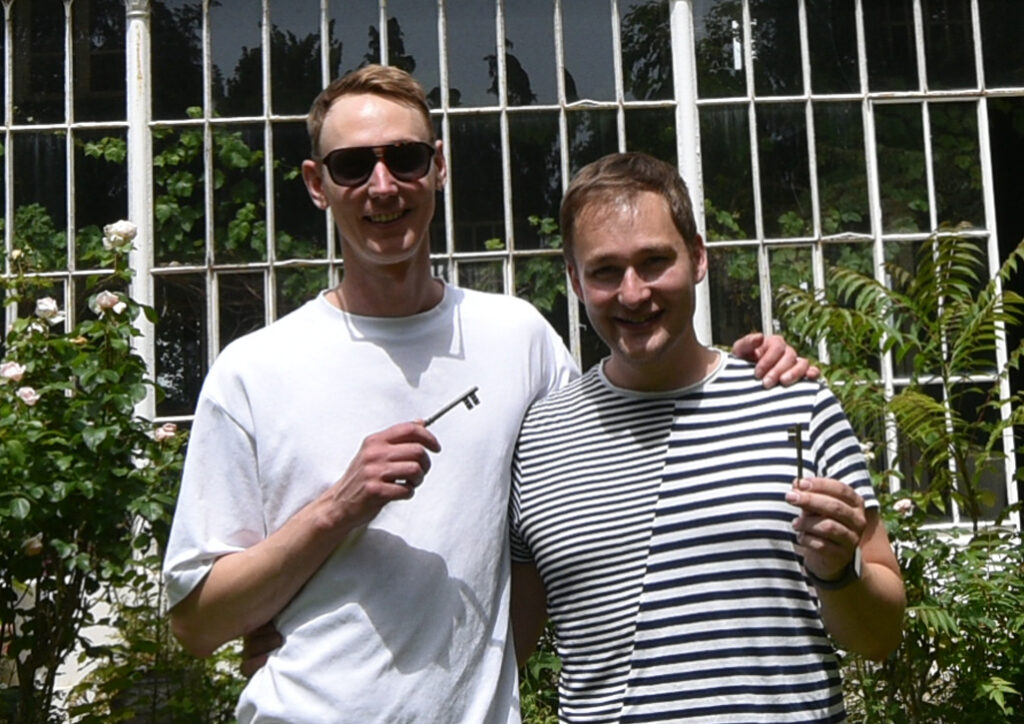 So what made them decide to buy and manage a château?
In buying a Château, they would be realising their childhood dream. It also enables them to pursue a shared love for renovating, transformation, hosting parties and bringing people together. Both Chris and Jolyon have the creative touch when it comes to design and decor, so Château Trois Cloches presented a blank canvas where they can unleash their creativity. Plus, it provides a space big enough to bring everyone together and one day they hope to be able to host weddings – to enable others to have a similar magical experience – as they did for their own wedding.
What made them decide on Château Trois Cloches?
Location was really important. Château Trois Cloches can be reached quickly and easily from the UK and has loads of attractions and historical sights nearby. But the fun and quirky features of the property made them fall in love with the Château.
What are some of their favourite features of the Chateau?
Where to start! The Orangerie was designed by Gustav Eiffel (who designed the Eiffel tower), the beautiful Stables, the bell tower on top, and not to mention the 200-year-old grape vines! Comme c'est incroyable!
Family support
When asked if their families supported their decision, their response was…Some family members thought we'd lost the plot, and were nervous at the scale of the project. And some were really excited and keen to muck-in. But we gradually got everyone on board with the dream and they have been a huge support.
Be courageous and bold!
When it comes to decorative inspiration, be courageous and bold! Take a few risks here and there. Let adventure lead the way and have some fun with it!!
Have they got any tips for would-be château owners?
You only live once, so take the plunge! Be prepared for the bureaucracy – it doesn't happen as quickly as it does in the UK. And finally, be patient. Take things one step at a time. Start with a list and tackle one room at a time.
And what would be your top DIY tip?
DIY is 1/3 knowledge 1/3 persistence, 1/3 have a go! But ultimately you need patience and tenacity! Stick with it. They like to start a project with a cuppa, and celebrate the end with a Crement (sparkling French wine). Every DIY project they have taken on has been harder than expected and took longer than they planned, but it's always worth it. Also, choose pre- loved! Second-hand furniture shops in France (Brocantes) have so many nice pieces and saves a fortune. Take something old and bring it to life with a bit of restoration!
Homesickness, no such thing
No! They visit London for work quite frequently to help pay for it all so they don't get homesick, but they don't have as much time as they used to for seeing family and friends. But it's an investment that they are sure will pay off.
What is your vision for the future?
So many options! Hire it out to big groups of people for birthdays and various gatherings, and one day soon – weddings. They love the idea of being able to host other people's special day. There are also yoga retreats, and music retreats. To be honest, anything and everything to share the beauty and feeling you get at Chateau Trois Cloches!
A great support system
We're so excited to be part of the show and getting to share the ups and downs of renovating while having some fun along the way. The positive messages they've had really helps keep them motivated and they can't wait to meet other château owners to share tips and experiences.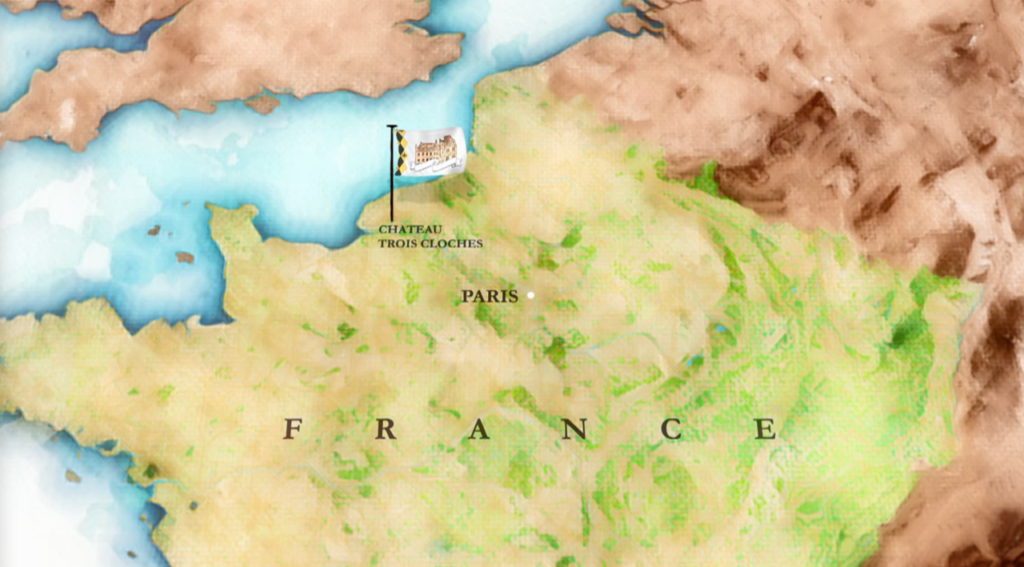 Château Trois Cloches Website
Coming soon…
Booking Enquiries
You can book a stay through VRBO here
or to find out more or to book a stay – contact the owners using the form below