Domaine de la Salle
Mariam and Jono
Domaine de la Salle, Mariam and Jono are a truly international couple. Fluent in English, French, German and Portuguese, they met in Paris, then moved to Brazil and travelled extensively in Latin America before buying a flat in London. But they are now finally settled and living their self-reliant dream, creating an organic farm that produces fruit and ancient varieties of grain.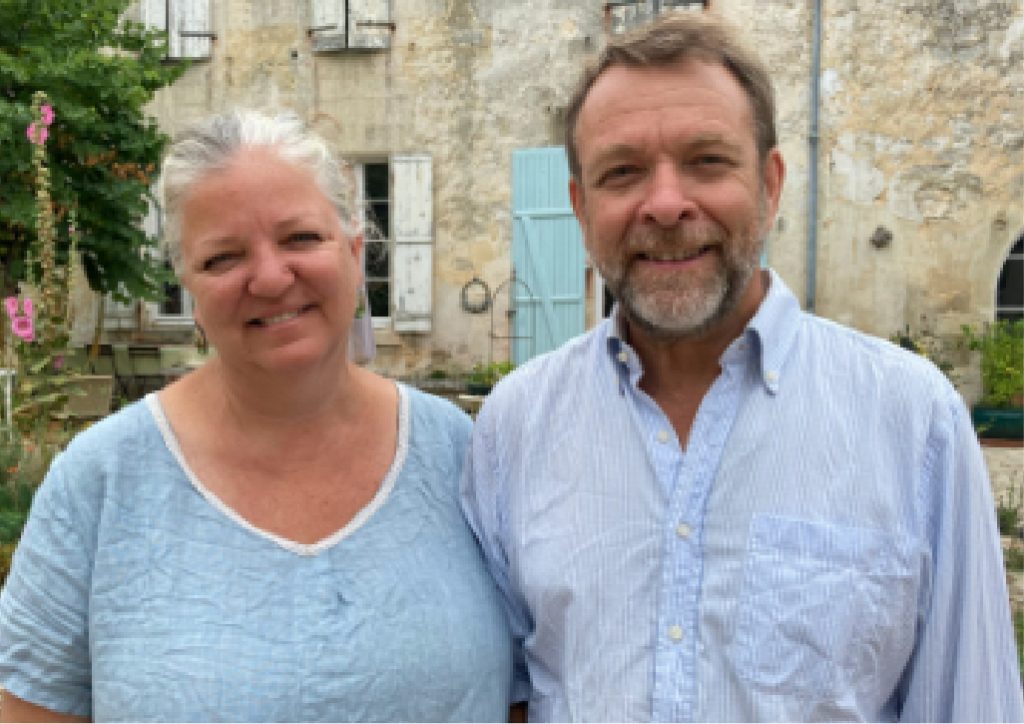 Domaine de la Salle, A working farm that will pamper you
Mariam and Jono's main focus isn't running a hotel – it's managing a farm.
So, if you stay here, although you'll be royally looked after in salubrious surroundings, it won't be a traditional holiday, instead you'll be enjoying a close up view that reveals the workings of an organic farm.
Rest assured though, you won't have to put in the hours that the owners do. As they explain, their farm is an ideal escape if you want to do absolutely nothing and get away from everything.
Green fingers are hereditary
Their son Monty is as motivated as his parents in all things green, is about to study agriculture and is now staying at the property and pitching in to help with big plans for the land.
One orchard has been planted already and another is planned, and a lot of time and effort is spent putting in hedges and replanting trees in the forest
There are plenty of opportunities to explore the vineyards or enjoy some of the many activities along the River Charente. There is always something to do; cooking, growing veg, walking dogs, drinking wine, socialising, markets. But running the château , doing renovations and looking for antiques that fit in with the property, take up all of Miriam and Jono's spare time.
The château
There's lots happening in the fields and forests then, but what about the property?
La Salle was inhabited since before the 12th century when the 'Saliens' settled there.
When Mariam and Jono first saw the château, it was a little larger than they wanted, but because everything else apart from its size was perfect, they decided to buy it.
A historical building, but not a museum
When they moved in, they completely renovated, with all the plaster removed and the floors taken up and with 15 local builders called in to help.
If possible, redecoration is done in a way that's authentic to the building's history, so ideally rebuilding uses traditional methods with artisans who know what they're doing. But paying homage to history doesn't come before comfortable living, and the couple don't want to live in a museum piece.
Surviving Covid-19
Less dependent on tourism than other château couples, the pandemic hasn't had a dramatic effect on business. As Mariam explains 'We couldn't be in a better place during the current situation as there is so much space and so many things to do here".
Slowly does it
Some of their biggest challenges have been negotiating the local bureaucracy, and dealing with rights of way and rights of passage. And everything here moves at a sedentary pace, that reflects the speed of life in this part of rural France.
Sorting out 58 window shutters was somewhat of an ordeal too! Each one was extremely heavy and difficult to take down, plus involved replacing rotten bits of wood and repainting several times to render it weather proof.
Parle Francais
It's important to at least try to communicate in the local lingo.
The pair are fluent in French, so there's no language barrier. A tip from Mariam is 'learn to speak French because local people love it, go the extra mile for you if they know you're making an effort".
Work out your costs in advance
Most importantly of all if you're thinking about purchasing a château, make sure to budget for rebuilding. Mariam and Jono spent significantly more on the house than the purchase price, paying more than €800 per square metre for restoration.
Not just a working farm
The pair are determined to persevere with their dream of providing a haven for biodiversity. But as the reputation of their château grows, they may have to start accommodating more guests too.
Booking Enquiries
Find out more or to book a stay – contact the owners here