Château du Doux
Abbie, Karen, Clive and Ross
As a family, Abbie, Karen, Clive and Ross all bought into buying Château du Doux overlooking the Dordogne Valley in southwest France in 2009 and made the decision to move to France full time in 2016.
They had previous experience in renovating, and in French property, but knew next to nothing about hospitality or running a chateau as a business. Despite that inexperience and a pandemic, the family are cautiously optimistic about the future.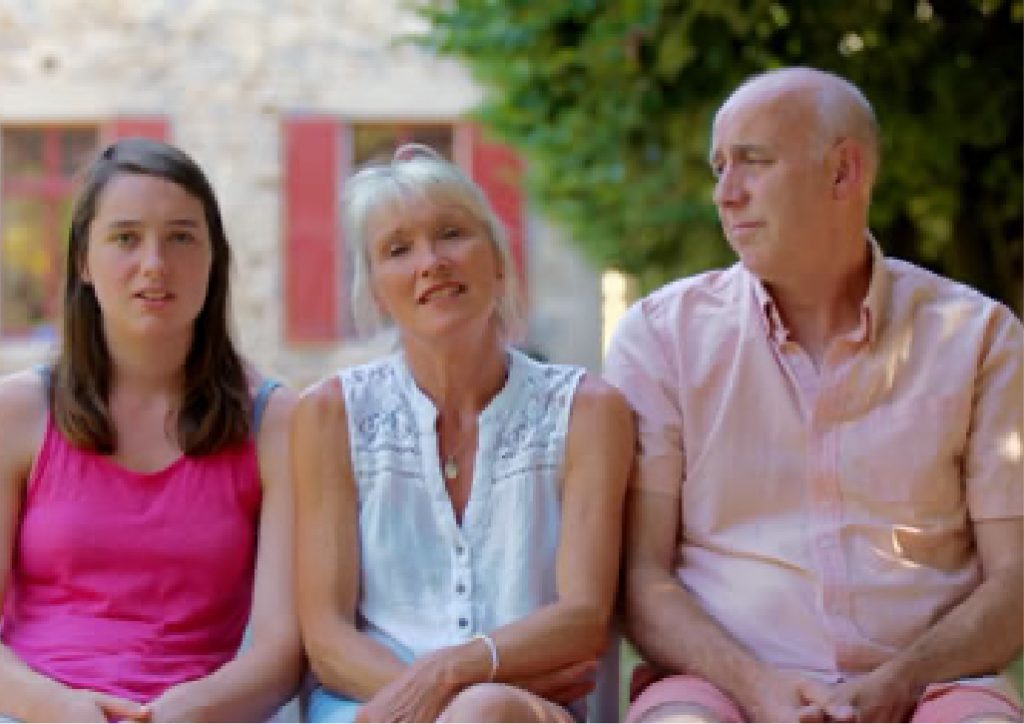 Château du Doux, Decisions, decisions
What makes people change their lives and become a château owner?
Is it to live a dream, or is it to start a new career running their own business?
The answer is frequently both.
Already experienced at property renovations
Take this family, Clive, Karen and their grown-up children Abbie and autistic brother Ross.
Clive was an IT Consultant, but for him, property development and architecture was a passion. The family previously owned a holiday home in Normandy for several years when their children were young, so they were hardly novices in purchasing a foreign property.
Francophiles
The other passion this close-knit family shared was a love of France and all things French.
Clive and wife Karen had always dreamed of living in France. They took multiple family holidays in France, and Clive was obsessed with French architecture and restoration. He was even an avid reader of Living France magazine and loves to look at splendid properties (especially châteaux) for sale throughout France.
Insanity!
Yet despite that background when the family were asked why they bought the château they say it was a moment of madness!
Love at first viewing
When they visited the area and first saw the property, they fell in love with both.
On a hill overlooking the medieval town of Beaulieu-Sur-Dordogne, Château du Doux was built relatively recently between 1904 and 1906. It was designed by one of the world's leading 20th Century architects, Jean-Louis Pascal, who also designed the famous Bibliothèque Nationale de France in Paris.
A stunning building with a dark history
Originally built for entertaining foreign dignitaries, it has a checkered past. During the Second World War it was requisitioned by the Vichy Régime and wealthy Jews were held here until their money ran out. They were then sent to the concentration camps.
Aware of its dark history, the family are determined to move forward, and, in their words, ensure that the château generates laughter and many more happy memories for years to come.
Big, beautiful and rundown
The family were enamoured by the beautiful architecture and the sheer size of the building when they bought it. But the interior was rather run down, as it hadn't been renovated for over two decades. And despite their experience in renovating, the family have made a few errors in restoring the place. For example, they tried to restore rotting windows by applying copious amounts of filler, when in hindsight it would have been easier and ultimately less expensive to simply have replaced them.
Hospitality was a new experience
The family had knowledge of France, the language and how to renovate a building, but they had absolutely zero experience in hospitality. Indeed, they hadn't even considered running their château as a business. But that all changed in 2011, when a couple knocked on the door and asked if they would consider hiring the property out as a wedding venue.
That unexpected request made the family realise the potential of their building and its location.
Trial and error
So the next few years they experimented with various ideas: offering the château for bed and breakfast, for holiday apartments, or whole château rental.
Eventually, through trial and error, the family decided hosting weddings was the most lucrative and most enjoyable way to subsidise the upkeep of the château.
You can't plan for Covid-9
Of course, one event that no business plan could anticipate is the pandemic. However, although it's put everything on temporary hold, the family have taken advantage of the situation by pushing ahead with planned renovations, and are now two years ahead of schedule.
Don't just jump into it
The advice the family gives to anyone thinking of buying a château for themselves is straightforward.
Don't even consider it unless you are have some experience at DIY and a second reliable income. It also hugely helps to be able to speak the language. Luckily Karen's French degree came in handy and Abbie is also now fluent thanks to her French partner.
So far they've given twelve years of their time and invested every last penny into making their wedding business a success.
How the show has helped
Appearing on the château show has also given them a huge boost in internet visibility, and they're confident when lockdown restrictions loosen they'll be able to welcome many more guests.
The family hope that after nearly 12 years they'll finally be in the position where the Chateau can pay for its own upkeep and they'll be able to take life at a slightly slower place and enjoy the fruits of their labours.
So, the bottom line is you don't have to be mad to buy a château. But it helps!
Booking Enquiries
Find out more or to book a stay – contact the owners here