Château de Montvason
Paul and Emma
Château de Montvason, Paul and Emma's journey to owning a chateau was unconventional and accidental. Unlike most of the Chatelains in the series, they were only looking for a home in France with a bit of land. Although they searched for nearly two years, every time Emma found something lovely, there was never enough land for Paul and so he vetoed nearly every property they came across.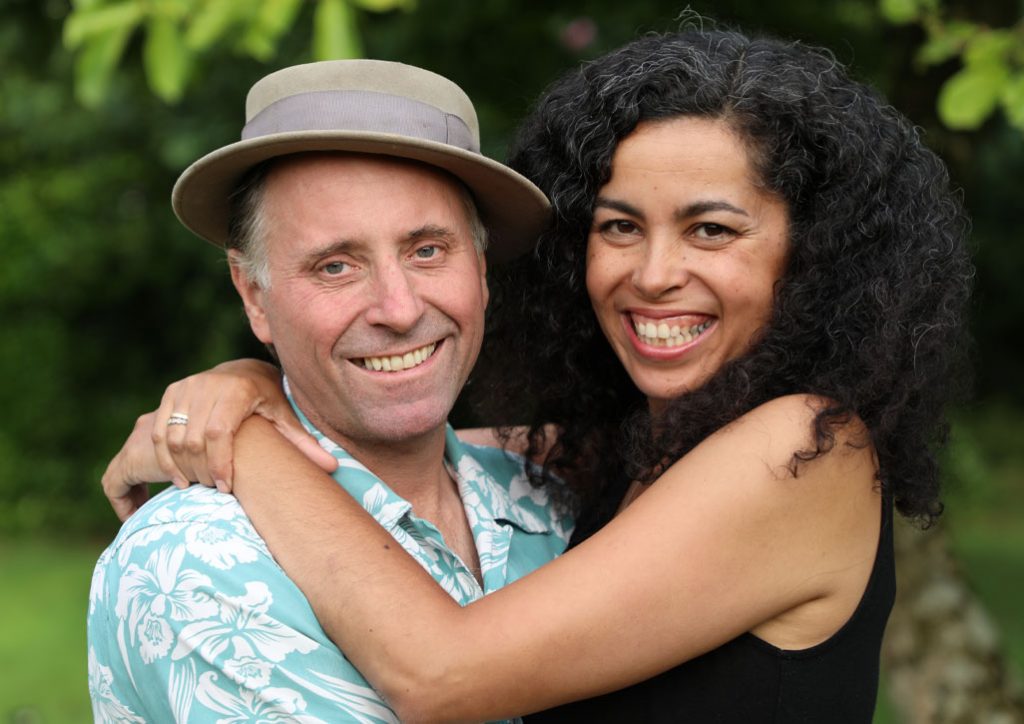 Château de Montvason, Comes with Chateau included 
Finally, Emma set up a surprise birthday trip for Paul, with a shortlist of five properties, not all chateaux. They fell in love with Montvason as soon as they saw the beautiful gardens, with their lake, maze and forest, the châteauwas just the icing on the cake. Unfortunately with the overnight post-Brexit drop in the exchange rate, it suddenly became out of their league budget-wise.
Making Dreams Come True
However, Emma refused to give up and after gauging from Paul how much he had left to spend on it, decided to sound out the French notaire during her lunch break. Before she knew it she had made an 'all-in offer' and a few days later it was accepted. "We both fell off our chairs in equal measures of shock and delight," explains Paul. "Our family and friends thought we were brave and mad, but have been really supportive". The château required complete renovation, with 30 rooms and 10 acres and so no small undertaking, but they rolled up their sleeves and never looked back.
I like the way you talk
Paul and Emma come from very different backgrounds. He grew up on a council estate and worked in a car factory for almost thirty years until medical reasons forced him to retire. Whilst she was very 'BBC' – including working there as a documentary producer for 10 years, in a TV career that spanned two decades.
The relationship works very well for them, although they teasing each other about their upbringing, ever since they first met. "We complement each other in both skills and approach. I focus on the design and Paul on the how-to, it's the perfect combination.", says Emma.
Château de Montvason
The Mondesir family that built the château used to winter in Paris and summer in Deauville. This is reflected in the building's unusual style. A Parisian roofline combined with an Anglo-Normandy style to create a more contemporary look for the time. Wings were added to either sides of the building and the roof finished in 1860, although the château wasn't actually completed until 1878. The 1878 sign is still visible in the washroom.
World War 2 History
Unsurprisingly for a building that is so close to where the Allied forces landed on D-day, its most dramatic history is centred around the German invasion and Allied landings. During the second world war, the château was occupied by the German 709 infantry division and subsequently liberated by the American 4th Division, following D-Day, on 21 June 1944. However, unlike other properties in the area that they commandeered, no one died or was interrogated here. Indeed, speaking to some of the elderly and still surviving locals, Paul and Emma discovered that this particular German division was very respectful of the villagers.
When the Allies landed the German soldiers left without much of a fight too, and the château and its inhabitants were relatively unscathed. Although there's still a crater in the back garden, where a couple of Allied bombs fell and you can still see some bullet holes in the side of the building. The end of the drive marks the American 4th Division line, where US heavy tanks and armour came down from the neighbouring village of Hameau Mouchel, on the day it was liberated.
All That Jazz
Paul and Emma met at swing dance 11 years ago and hence are both passionate about all things vintage. Paul particularly loves 1920s-1940s swing and jazz and so you will find touches of Art Deco and Art.
Nouveau throughout their chateau, in the 3 salons and 8 bedrooms that they have decorated so far. They ran a monthly swing dance event in London, Mouthful O' Jam for 11 years and now the château houses Paul's extensive collection of 78rpm records, as well as a newly built, bespoke Art Deco sound system to play them on, which was recently christened at their first jazz event.
Going to the Chapel and we're going to get married
The medieval chapel that was here originally, was knocked down in 1848, when they built the centre of the house. However, the stained glass was used in the local church at Ruffosses and the steps leading to the side of the house are the original chapel steps.
The old chapel wall down to the vine house still exists. Paul and Emma have now transformed the vine house into a summer salon, ideal for long summer evenings and dining alfresco. It also serves as a pop-up bar for events. Their latest of which was their first jazz festival. Paul and Emma are also planning their wedding next year and will be using this space and the new sound equipment, for a week- long, vintage festival of music, dance and celebration.
In sickness and in health, for better for worse
It hasn't been plain sailing all the way though. Emma broke her back a couple of years ago and Paul, who retired early due to medical reasons, have to work around their various medical challenges. Having renovated 7 places together previously, they clearly work really well as a team. Sharing DIY jobs and mixing traditional roles. Aside from decorating and gardening, Emma also chainsaws, knocks and builds walls and does carpentry and Paul also adds sewing, candle-making to his long list of masonry, carpentry, plastering and numerous DIY skills. On a project of this size, it's clear it has to be all hands-on deck.
Lots more exciting projects on the drawing board
After having spent the last 4 years mainly concentrating on finishing the interior of the château, so they can rent it out as an exclusive holiday stay, they are now also concentrating on whipping their 10 acres of parkland into shape. They want to reinstate their two lakes into one, which used to serve as a boating lake for the Pioerron de Mondesir family. However, before that they'll need to start refurbishing the untouched second floor – a big job that includes ten rooms and takes up about a third of the château's space.
Preserving History
The names of both the American soldiers and German soldiers who were billeted at the château, are still visible on the doors of the second floor, which have been untouched since 1946. The second-floor renovation is their next big project and they are going to take great pains to preserve this rich history, keeping the colours and theme of that era. The 40's are somewhat of a speciality of theirs, Emma produced several WW2 documentaries when she worked at the BBC, so they will be bringing their combined expertise to create something really authentic.
Restoring the past
The general plan is to restore the house to its former glory. Paul and Emma take great pains to use traditional methods and materials in their renovations. They plan to rebuild the cover over the veranda at the front of the chateau, that spanned the wings and was destroyed during the war, Paul has already recreated balconies that were also destroyed, from an old photo that a neighbour gave them as a reference.
Paul climbed 55 feet of scaffolding to restore and repaint the gables and pointed roof, which were built to reflect the historical style of the area. They have discovered some surprising relics too, including an old pigeoneer for birds to nest, which was built into the loft, surrounded by art nouveau tiles.
Art Nouveau with Art Deco
Both Paul and Emma are fans of art nouveau and they incorporated a 1920s art deco bathroom in the château's west wing, using period vitrolite tiles salvaged from an English estate. As well as two art nouveau bedrooms.
What used to be the masters dressing room is now a spiral salon as it houses the spiral staircase leading down to the dining room. Emma's favourite room however is the Italian-themed, white salon with dreamy soft muted colours, log-burner and chaise longue, in front of the French windows, overlooking the gardens. This is where the couple like to relax and enjoy an aperitif together at the end of the day. The couple are slowly but surely returning the château to its former state, sympathetically restoring it to its previous glory – but with 21st-century conveniences.
Advice if you're thinking of buying a château?
If you've been following the Château DIY program, you may have heard similar advice from other owners. They say it helps to be crazy about renovating and passionate about restoring historical buildings. Plus, you must love hard work. No – you have to really, really love hard work! And, if you have experience in renovating other buildings, that will be enormous practical help. It certainly helped that Paul and Emma renovated seven properties together, before they took over Château de Montvason.
DIY tips
Measure twice and cut once, suggests Paul. Plus remember the acronym – KISS.
Keep it simple stupid, because if you over-complicate things, you only make more work for yourself. However their work has been incredibly intricate at times and far from simple. They have hand plaster cast vines from their garden, routed out intricate art deco patterns, into wood, built balconies by hand and have hand-painted panel-size art nouveau paintings and a 3-metre high mural, in the Oriental salon.
Plenty of skills to pass on
Paul and Emma see Château de Montvason not as a business, but as their family home. And now they have a grandson, by Emma's eldest, Phoebe, and Emma's son Jude, is also planning to come and live with them after college, they intend to stay where they are. Paul will be grateful for the help and will be teaching Jude all the necessary skills to refurbish and repair a big property. Which means learning things like carpentry, plumbing and plastering.
One day the hope is that he will be able to take over the management of the building and the business. Although Jude has plans to buy and restore his own properties too. The château will be their place to retire, as well as a legacy to pass on to their growing family.
5 Star Service
After spending the last four and a half years lovingly restoring the château in great detail, they recently received the ultimate accolade, with their official classification. They got 5 stars off the bat, for their efforts. "It's the only 5 star that's been awarded in the area, so we were absolutely thrilled that all our hard work has been officially recognised." says Paul. They now rent it out for long weekends, holidays, retreats and events.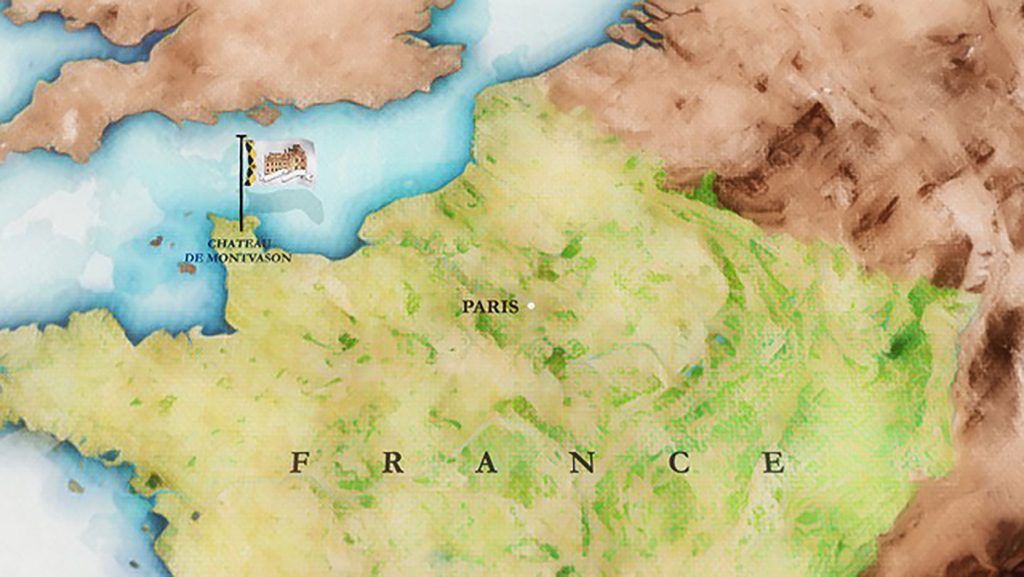 Château de Montvason Services
events, short stays, exclusive use, retreats
Booking Enquiries
Find out more or to book a stay – contact the owners here