Château de la Boutiniére
Alison and Zion
Château de la Boutiniére, When Alison and Zion met on the dance floor, they quickly realised they had so much in common, each having 35 years of experience in interior design and property renovation. They decided to take their expertise from North-West London to France. It took 3 years to find the château of their dreams (and 11 months to buy it), and there was no turning back!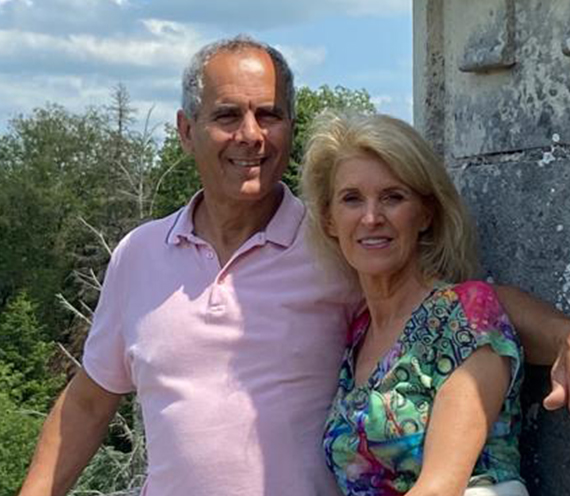 Château de la Boutiniére, Most successful designs to date
Their North London home proved to be their most successful project to date – in just 5 months they developed an ordinary 1930s three-bedroom, semi-detached house into a beautifully designed 6-bedroom, 5-bathroom home, incorporating a fully accessible, self-contained, ground floor studio for Alison's 85-year-old mother and a self-contained, garden studio. Alison has won awards for her 'future-proof' interior designs and during her career at the Royal College of Art in London, she helped students to consider designing for all age groups and abilities, a concept she incorporated in their London home, and she now intends to bring into her designs for Château de la Boutiniére.
20 Chateaux and counting…
Alison's long-standing dream of owning a wedding venue in the UK had been shelved long ago, due to the high cost of UK property. After her Mum insisted, she and Zion watch her new favourite program 'Escape to the Château', they immediately saw the potential and wanted to give it a go, so Alison's dream was revived in France! 20 chateaux viewings over 3 years and they found their forever home and lifetime project – Château de la Boutiniére.
Family support
Some friends think they're crazy, but Alison's mother and sister are the biggest fans of their chateau dream. Her mother even accompanied them 'château shopping' in France.
Pandemic life
Whilst waiting to move to France and with a never-ending lockdown causing a lack of fresh vegetables on the supermarket shelves, Zion decided to build a greenhouse from recycled materials in the couple's London garden. This zero-cost, 'lockdown' greenhouse enabled them to grow fresh vegetables for themselves and all their neighbours before they sold up to buy their dream château. Now they plan to be self-sufficient and to grow vegetables for their new friends and neighbours in France!
Love at first sight
When a friend of theirs showed them Château de la Boutiniére, in the heart of Vienne, via a video viewing in November 2020, they knew this was the home they had been looking for. It took 11 months from seeing the Château for the first time to being handed the key to the property in October 2021.
Early Brexiteers
With Covid and Brexit combined, Zion and Alison concluded they could not have chosen a worse quarter in the last century to try and relocate to France – they really were amongst the first 'Brexiteers', battling with new rules on both sides of the Channel! In addition, Covid meant travelling to view châteaux became impossible, so when they found Château de la Boutiniére on a historical website, they sent a friend, who lived in France, to view it on their behalf. He sent them a phone video of the viewing and they immediately knew it was the château they had been searching for, so they made an offer to buy the château based on the phone footage! Little did they know it would take a further 11 stress-filled months to conclude the sale!
The hurdles you face when Château shopping
Alison and Zion sold their London home 7 months before relocating to France, so they were forced to live out of suitcases in rental accommodation. The first struggle was learning about French property tax law because every French accountant had a different take on the law – three French accountants later and they found the right one. They finally put together a team of English/French speaking lawyers and accountants to help with the buying process. This was especially important because the château had been repossessed by an Italian bank.
Homesickness, no such thing
No! They both speak with their family every day on WhatsApp. Alison and Zion say they realised they were 'through with the pressures of London living' and were ready for their transition to France after they were given a parking ticket on their own driveway. It proved to be the final straw!
No such thing as free time!
Now it's 100% full on! No quiet evenings in front of the TV at the château (they haven't bothered unpacking the TV!) and they rarely take a break. From a broken boiler to a serious roof leak, there's always something demanding their attention. The current lack of Wi-Fi at the château is the biggest challenge they face, followed closely by juggling project management and shopping for materials when most shops in France close for 2 hours over lunchtime!
Vision for the future
So many adventures! When it comes to design, both Alison and Zion have so much drive. With an array of ideas and without giving away too many, you might expect to see a lake and several new fountains appear at Château de la Boutiniere. As well as weddings and wellness retreats (Alison is trained as a holistic counsellor) there will also be music summer-schools and of course plenty of dancing!
Looking to buy a Château in France?
They say go for it! You only live once and it's an adventure of a lifetime.
Inspiration for decoration and renovation
Alison and Zion love mixing traditional and modern furniture to create their own eclectic, château style. They are retaining some of the undamaged, original silk wallpaper in the château, combining it with modern pieces of furniture from their former London home. They love a bargain and happily rummage around the local brocantes, buying old furniture to restore.
Top DIY tip
Don't rush! Live in your new home before making any structural changes. You may think you can predict how you will live there, but the reality can be quite different once you settle in.
Châteaux challenges are many!
Water! According to Alison, it seems to appear everywhere it shouldn't and refuses to exit where it should! Château de la Boutiniére was empty and abandoned for 7 years before Alison and Zion bought it, so they are fighting a daily battle to cure damp walls, roof leaks, blocked pipes, and drains (and that's just inside the château!). Outside, the driveway is currently a sea of mud, where the surface has been taken- over by moss and years of fallen leaves.
Main business for the Château
Weddings & music events, holiday gites (Chambre D'hote) and wellness retreats.
Customers from all over the world
Alison and Zion would like to hear from couples who dream of having a French wedding or a special celebration. They've already received their first wedding enquiry for 2023 from a French family.
It's changed our lives!
They were looking to retire – but not anymore! Moving to France has been life-changing – it's literally taken over their lives, and they couldn't be happier. For Alison, it's been the fulfilment of a lifetime ambition.
Love working with the crew!
The most exciting part about being on the show is being able to show the progress of the château but, Alison says, it also helps to keep us focussed, so we get projects finished. The couple say they absolutely love working with the Château DIY Team because, from the Camera Crew to the Office, they are all so kind and supportive.
Interesting facts
Château de la Boutiniére, is 5 minutes' drive from the picturesque village of Saint Pierre de Maillé. The River Gartemps runs through the centre of the village, so you can buy coffee and croissant from the local boulangerie and enjoy it whilst sitting next to the river, overlooking the weir and of the old watermill.
The château was built in 1872 in the 16th Century 'Renaissance' style. It has 47 rooms over 5 floors, 12 outbuildings and is set in 52 acres of land.
Second prettiest village in France
Be sure to check out Angles-sur-l'Anglin – it's been voted second on the list of prettiest villages in France and is just 7 minutes drive from the château. There are also lots of quaint places to visit close by a beautiful old mill, pretty rivers, antique shops, and cafes and lots of activities for all the family, such as canoeing, picnicking and paddling in the river shallows.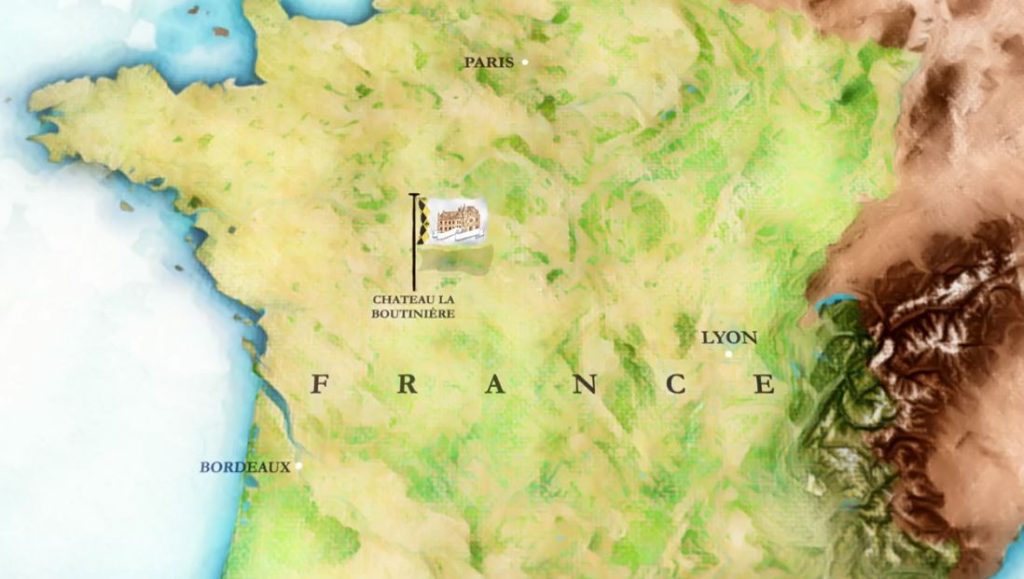 Château de la Boutiniére Services
weddings, events, volunterring
Booking Enquiries
Find out more or to book a stay – contact the owners here