Château des Vieilles Vignes
Nick and Nicole
The couple met in London in 2011. Nick is half-French and Nicole is Swedish by origin. One of the reasons for moving is for a lifestyle change. They're looking forward to moving away from the city and going back to nature. Both Nick and Nicole work with leadership development and coaching and Nick runs his own wellbeing consultancy. One of the plans they have for the Château des Vieilles Vignes is to create amazing experiences for people to reconnect with themselves and go back to their roots.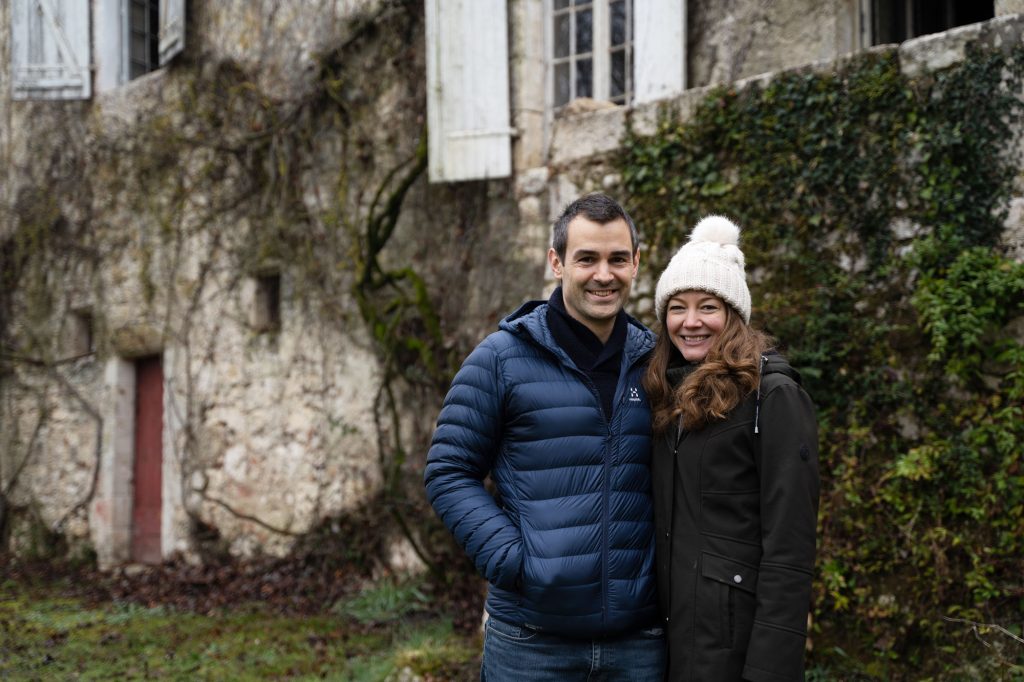 Why a Château?
The couple has a large extended family and after spending much time travelling the world to see them, they wanted somewhere big enough to be able to bring everyone together in France.
Transitioning to Château life
While the offer was accepted in February 2020, the sale wasn't completed until March 2021, due to Covid causing delays. To complicate matters further, the seller was made up of thirteen separate owners, one of whom was a minor who required a judge to sign off on their share, delaying the sale for many months. However, the previous owners were really happy at the prospect of it becoming a full-time home after it had been used solely as a summer home since the 1960s. The transition from London to France for the couple begins in October 2022.
Why this particular Château?
After looking for the perfect Château for 5-6 years, they came across this Château. Covered in vines and with ivy threatening the structural integrity of the roof, the estate agent tried to put them off viewing it, telling them it was too big and required too much work. However, not ones to be deterred they went to visit it anyway and fell in love with it immediately on seeing its vast potential. Soon after their return to the UK, they put in an offer.
Pre-château life!
Nicole worked at a Law firm, as Head of Learning and Development, but has since joined forces with Nick's business. Nick is a Wellbeing Coach and Facilitator – focusing on helping individuals and originations across multiple industry sectors to flourish. The plan is to continue running their Wellbeing and Leadership business from France and expand it by running wellbeing retreats for individuals. Nicole, who is also passionate about interior design, has various other plans for their Château, including opening a small interior design shop.
Affected by the pandemic
The pandemic made them realise the importance of flexibility with what they do and their desire to live more permanently in France. Being able to offer a host of different things at the Château, including gites, bed and breakfast, as well as wellbeing retreats, while also delivering programmes online to corporate clients, will hopefully give them the flexibility they desire and mitigate the risks highlighted by the pandemic, while also providing them with the freedom to live life on their terms.
Attempting to complete the purchase at the height of lockdown in March 2021 was a real logistical challenge. Every flight they attempted to book, got cancelled within days of booking it. Eventually, they opted to travel to France on the Eurostar service from London to Paris and then by TGV from Paris to Bordeaux. Thankfully it all worked out and they successfully signed on the dotted line and got the keys to their chateau!
What do you do in your spare time?
Nicole loves to make candles in her spare time. As a couple, they do lots of walking/hiking and love being outdoors. Nick is a passionate runner with ultra marathons – Scotland to Wales – his belt, as well as a keen cyclist and swimmer. Nicole loves to make candles.
What did your families think?
Initially? Their families thought they were nuts. However, Nick's parents based eight hours away on the Cote D'Azur, have been great. They met up in the Dordogne to view properties with them several times – they were even there when they found the chateau! Nicole's family have also been very
supportive, with family members coming to lend a hand with the renovations on multiple occasions.
Any hurdles?
With Nick being fluent in French the transition has been a lot easier for the couple and Nicole has been brushing up on her school French via Duolingo. They feel that they have won the lottery with lovely neighbours who have helped them every step of the way. Leaving a stable income behind was a fairly daunting prospect for Nicole, but they knew that taking the leap and her leaving her permanent role to move abroad would be worth it. It also helped that the business that Nick set up has been going from strength to strength.
Vision for the future
The vision is extremely important, as there is a long journey ahead with lots of gardening and demolition work to do before the renovations can even start. The vision encompasses creating a family home and thriving business made up of Gites, B&B rooms, as well as running and hosting wellbeing and
leadership events. They have considered the possibility of running one or two weddings each year, but no decisions have yet been made. They'll see! The plan is to open their doors to guests at some point in 2023 or possibly 2024, depending on the renovations.
Tips for anyone thinking of buying a Château
The most important thing when it comes to buying a chateau is to do your research as to where you wish to live. You can change your chateau but you cannot change your location. Do plenty of research on your area – locate the nearest airport, supermarkets, shops, restaurants etc. It's also important to
have patience throughout the whole process from start to finish. When it comes to the renovations, it won't come as a huge surprise that people should request quotes from multiple different contractors, ideally ones who come recommended and are trusted by locals. Their experience has taught them that quotes can vary wildly and to not settle on the first or second quote you obtain.
One for the fans
Nicole is hugely interested in interior design and plans to create weekend workshops for guests and visitors to book onto, in addition to opening a small interior design shop at the chateau.
Interesting Château features
Nick and Nicole plan to research the history further once they live there. So far, they have identified that the chateau was originally an old monastery built in the 1300s. The couple calls it a robust beauty with 1m thick walls. Covered in vines, which go red in winter, the tranquillity of the bedrooms overlooking the gardens and vines makes it very idyllic. The chateau is in the middle of a village, surrounded by amazing neighbours and local wineries. 
Sources of inspiration?
Pinterest! They love Scandinavian simplicity, tranquillity and calm spaces. They will look to bring back some of the original features of the chateau, such as the stone fireplaces, exposed wooden beams and beautiful white limestone walls. The previous owners did undertake some renovations in the 60s/70s, but their efforts had not aged well. As a result, Nick and Nicole have spent the best part of several months demolishing the previous owner's work!
Top DIY tip?
Don't wear dungarees when demolishing… unless you're happy carrying pieces of fallen rubble around in your underwear! Source the right equipment, as it can save a lot of time and easily pays for itself in a matter of days (if not hours) – the couple didn't release soon enough that a jackhammer is a lot more effective than a chisel and hammer. It is extremely important to invest in protective gear – you should not underestimate how valuable this is. Also good masks, good eye protection and strong shoes –
steel toe caps – are a must! Oh, and an extra pair of helping hands always comes in handy! The pair plan out their day with a few hours of DIY in the mornings, a long French lunch, followed by more work in the afternoon.
Biggest challenges?
There have been plenty of challenges and no doubt lots more to come! A real challenge was being able to dispose safely of the asbestos pipes leading from the toilet to the septic tank in the basement. With an initial quote for 10,600 euros to remove it (their jaws did drop), they did further research into it and were able to pay 20 euros to dispose of it, in addition to around 450 euros in safety equipment, saving over 10,000 euros in the process. With the whole chateau needing renovating, it's not an overnight project, so a strong mindset is a must.
Main business
Once the renovations are complete, the chateau will offer bed and breakfast stays and weekly gite rentals, together with leadership and wellbeing retreats
Who do you think you'll be attracting?
The couple are looking to attract city professionals, people who seek respite from the frenetic pace of life and those people who enjoy the peace and tranquillity of the beautiful French countryside. They are also planning to work with corporates who are looking for retreats for their senior leadership teams. They anticipate that most of their clientele will be from the UK, US, Sweden and France.
How has the show changed your life?
Nicole is the no.1 fan of the show. She lives vicariously through it and has been greatly inspired by it – it's real feel-good TV. They have spent several years saving to make their chateau dream become a reality. Throughout the pandemic, they enjoyed watching something more positive and the show was
exactly what they needed to keep their spirits high. They absolutely loved the Christmas special and have requested that there be more episodes this year.
Excited to be on the show
They are excited to share their renovations for others to get excited about and perhaps inspired to take on their own renovation project. They are mindful that their chateau is currently the ugly duckling of the chateaux on the Chateau DIY show, but they are hoping that the other chatelaines will be happy to impart their wisdom given most of them have many more years of experience in renovating such awe-inspiring buildings. In time, they hope to build relationships with the other chatelaines – being part of a community with other like-minded people undertaking such vast projects will be a great source of inspiration and support.
Discovering the local area
The couple's favourite Mediaeval village in the vicinity is called Issigeac – with plenty of restaurants, two of which are the couple's favourites in the area. The village boasts a must-visit Sunday market too, which takes up the entire village in the summer months. There is an abundance of vineyards locally too, including two (soon to be three) wine tasting venues in the village of St Julien where they live. Chateau Monbazillac is another famous chateau only 10-minutes away by car, which makes incredible sweet wines.
Other highlights in the area

The Mediaeval village of Eymet is situated 10 minutes by car from the chateau and is a real gem. It has a lovely market each Thursday, which we enjoy visiting. If you do visit, you must take the opportunity to visit the coffee roastery "Dada", which is hidden away down a side street we discovered just this past summer.
For wine lovers, the world-famous St Emilion is an hour's drive away. For more wonderful food and lazy walks along the Dordogne river, Bergerac is not to be missed!
Rocamadour is also a must-see and not only is it one of France's most important tourist destinations and a UNESCO World Heritage Site, it has also been a crucial pilgrimage site for a thousand years. Gouffre de Padirac is the most visited cave in France. Descend 75m below ground and board a boat that will take you through the fantastical galleries towards the largest of the cave's stalactites and the impressive Salle du Grand Dôme with its 94-metre-high ceiling. Wow-factor guaranteed!
And if you happen to be in the area in July or August you must not miss the white garden picnic in the Gardens of Eyrignac! Every Monday night in the summer, the Jardins d'Eyrignac open the White Garden for an evening of festivities where visitors dress in white and bring along a picnic (or buy one from the restaurant). It is truly magical (and a fantastic place to propose).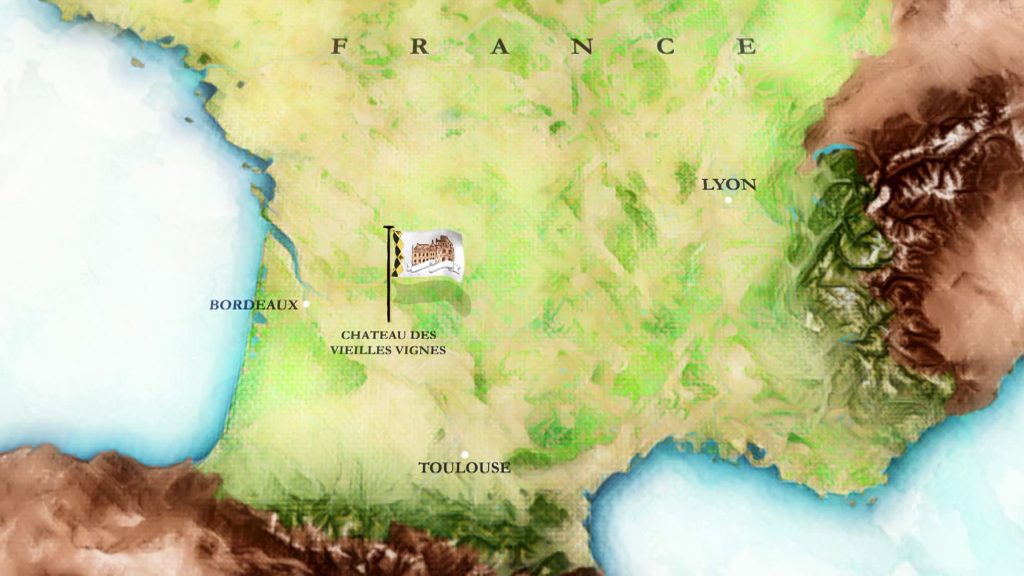 Booking Enquiries
Find out more or to book a stay – contact the owners here