Château de Thuries
Jayne and Steve
Château de Thuries, What made Jayne and her husband Steve decide to buy the Château Thuries in France?
Jayne dismisses it as naivety mixed with stupidity. But that's probably said tongue in cheek.
Because she had a wealth of property management experience in the UK, so she must have had a good idea what they were letting themselves in for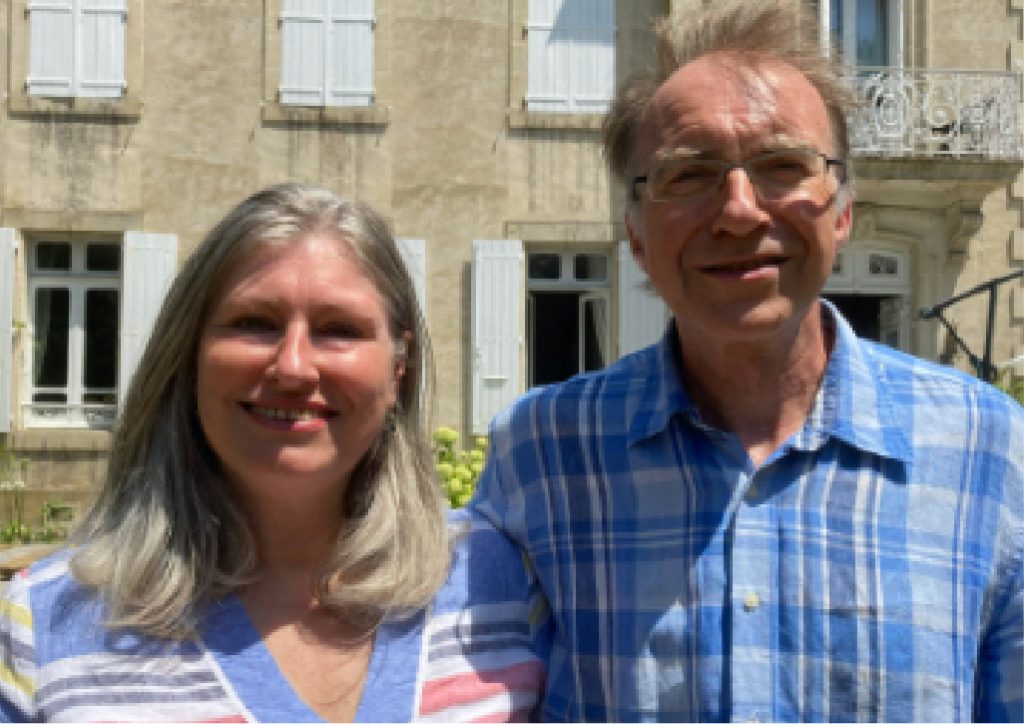 Château de Thuries, Learning on the job
Jayne originally worked in TV before taking time off to look after her children and then retraining to be a garden designer for a number of years. She was then employed in a country house for six years where she looked after the bookings for nine country cottages and their events plus a restaurant. All of which gave her a sound grounding to start running her own château.
In the meantime Steve was working for the Gloucester and Worcestershire wildlife trust, raising money for them.
Planning the great escape
Jayne was more excited about the possibilities of owning and managing a big property in France than her partner. It's amazing how much more real estate you get for your money compared to the U.K. You can find property that would cost countless millions in London, yet is affordable because it's located in France. And apart from anything else she was fed up with the 9-5 grindstone and the UK weather.
No more reason to stay in the U.K
So Jayne was constantly looking at interior designs and property, and showing Steve what they could buy over in France. When her mother sadly passed away, Jayne was no longer tied to the U.K. to be around to help her.
Let's get serious
So leaving their two daughters to get on with life in London, she persuaded Steve to make the move for real.
After all she said, what's the worst thing that could happen?
When the couple sold their house in England and moved to France in March 2017, they were no longer casually looking.
Finding the one
They saw an impressive number of properties in South France around the Toulouse and Carcassonne area, discovering the Château Thuries. According to Jayne, the moment they saw the building in the driveway they both knew that their search was over – they had found "the one"!
Getting ready for business
They made their bid and moved in not long after. They knew they needed a business to sustain themselves and decided chambre d'hôtes would be the best way So they launched on a mission to transform their property into four guest suites plus a wedding and events venue.
Starting at the top
When they began renovating the Château they worked from the top downwards. First they made a space where they could live comfortably on the second floor. On the next level down, they created four guest suites, each with a different theme and a unique personality.
For example, Jayne is a fan of the French renaissance style so there's a Versailles room. A nature room embraces Steve's love of nature and wildlife. A petit boudoir reflects Jayne's fondness of silk. And so on.
It has to be just so
Even though there's an urgency to get everything ready, it all has to be as close to perfection as Jayne can get – she even totally redid a room from scratch that she wasn't happy with. The plan was to rent these rooms out as bed and breakfast accommodation.
The Château show
Filming for the Château show began at the start of the couple's rebuilding. And it made their work even harder, they both enjoyed the experience. They also said they met some lovely people, including Dick and Angel who apparently gave them some wonderful advice.
Getting noticed
Equally importantly the show gave them lots of visibility at the start of their venture.
Many people have contacted them because of the programme.It's given them a presence on social media too. The only downside Jayne says, is that it makes her cringe when she watches it back.
Adapting to a different way of living
Since those early days Jayne and Steve are adapting to the French way of life.
That includes different opening times and a slower pace of life.
For example, Jayne warns, the French shut shop between 12 and 2pm every day. And you need to work to their timetable, not yours. So if you need to go to the DIY store it has to be in the morning, or you lose half the day.
It's slower and more expensive here
The French are far more laid back than the English too.
And every project takes twice as long as they expect.
Prices are steep, so everything also costs more, and they've had to adjust their spending as their initial costs have doubled
Please can you say that in English?
They'll have lived at the Château permanently now for the last three years and they can't believe how much they have done in that time.
Although, sadly, their list of achievements doesn't include learning French.
When they first arrived, the couple could hardly speak a word of the local language. And they aren't exactly fluent yet either.
To be fair, Jayne hadn't tried to speak French since she was at school. But she's trying now, in what she describes as a slow but sure process. Steve finds talking in the local language even more of a struggle. But it's less problematic than it could be as most of their neighbours can speak English.
More than just B&B
Once they get set up, the plan is to build up their business from simply providing bed and breakfast. So one idea is to offer guests a range of different courses including a French one for beginner's ideally starting in 2022. (Jayne and Steve have no doubt already put themselves on the list to enrol!)
Top tips
What advice have the couple got for anyone who's thinking of moving to France and setting up their own business in a château?
First off, know what you are looking for.
That means decide in advance whether you want a rural space, or somewhere near a town, decide the area you want to live in, research what the weather and climate will be like and so on. Even better write a check list of essential and preferred requirements and tick them off.
Also, as an aside, don't buy anywhere that's too dilapidated. You'll probably regret it when you see the costs of renovation.
Secondly, be aware how much money repairs will cost.
And overestimate to be on the safe side – everything will cost more than you think.
Thirdly, recognise the property market is different in France.
So try to understand it as thoroughly as possible before you make an offer on a château.
Lastly, some advice on DIY.
If you do your research and find your dream château, then have to be hands on. So be prepared to learn new skills and be adventurous. Try things even if you've never done them before. If Jayne and Steve's experience is anything to go on, you'll be amazed by what you can achieve.
Covid-19
Like so many other people across the globe, the pandemic has hit the couple financially and emotionally.
On paper they had had a busy year ahead, and then everything had to be put on hold. Although most bookings have been postponed a year, with only four cancellations. But they also haven't been able to see their daughters for over a year.
However, they agree that if you're going to be stuck at home in a lockdown there are worse places to be than in a château. Plus they've put the time to good use, with every day busy renovating and decorating.
True love stands the test of time
Before the couple moved to France, Jayne wondered how they'd get on having to spend every day together. The lockdown has meant they are even more restricted, with only each other for company for most of the time.
So has their relationship survived the test?
Jayne thinks so:
"Steve and I are still best friends and I love him more now than when we first moved here.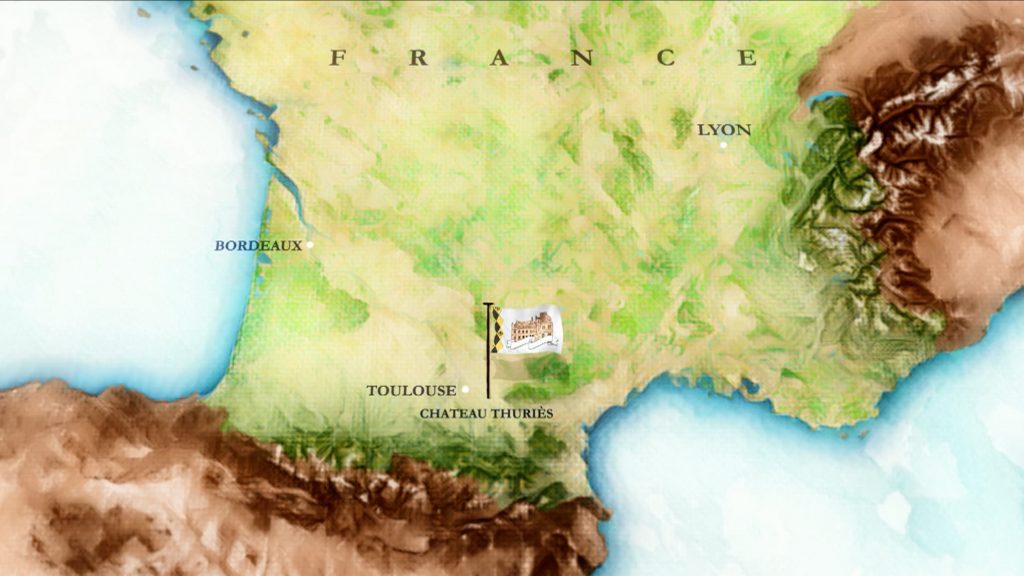 Château de Thuries Services
stays, retreats, wine tours, B&B
Booking Enquiries
Find out more or to book a stay – contact the owners here