Château Larribau
Julia & Paul
Julia and Paul McKeivor established Billard Room Ltd in 1993 and have been restoring bespoke antique billiard, snooker and pool tables in the Mendips hills of Somerset for thirty years. The ethos of the company has been organic, stemming from Paul's love of billiards and snooker competition participation in the 1980's. Billiard Room Ltd's success lies in their ability to source the world's most desirable tables and accessories and restore them to their original aesthetics while maintaining functionality.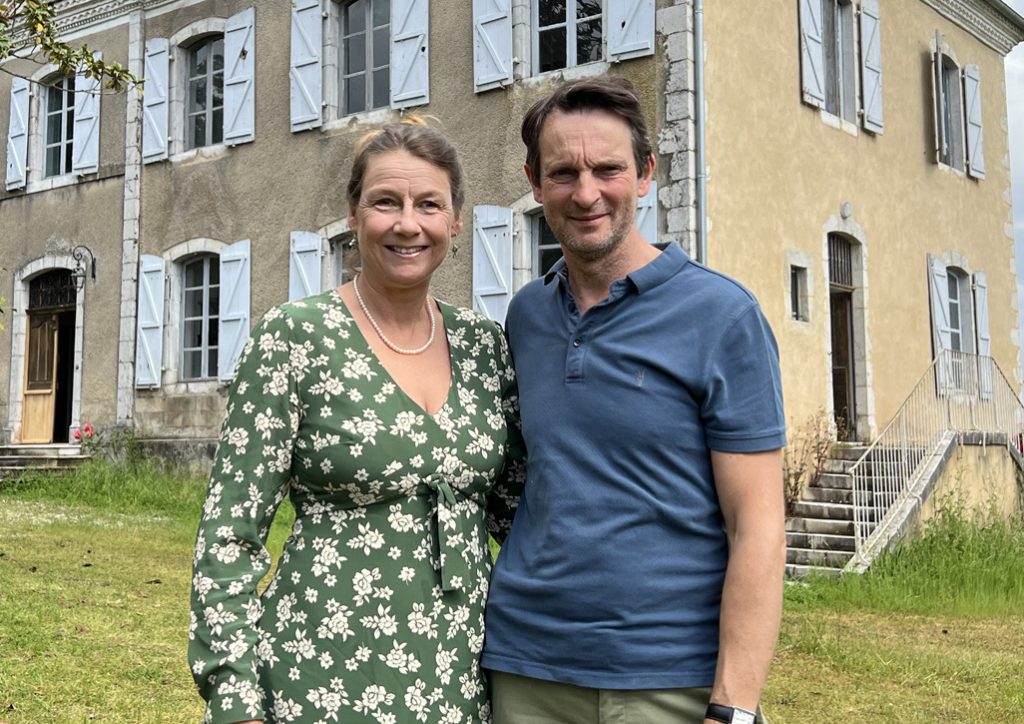 Restoration for Julia and Paul is an art form, the skills that have been handed down through generations ensure traditional methods of restoration are used in order to retain the integrity and essence of the antiques they work with.
With a love for antiques, architecture and interior design Julia and Paul are extremely excited about restoring Chateau Larribau, a 1790s Chateau built within the directoire period. Julia and Paul restore antiques in a sensitive manner and they have this same vision for the Chateau and aim to bring the building into the 21st century whilst maintaining its authenticity.
Julia and Paul are hoping to relocate to France and make the Chateau their primary residence. They previously converted an 18th-century farmhouse in Correze but due to commitments in the UK, they were unable to spend as much time there as they would have liked, however, their lifestyle is changing and they have every intention to make Chateau Larribeau home.
Decisions into buying a château
For Julia and Paul, it really was a case of now or never, they are strong characters and work incredibly well together as a team, they were in a fortunate position to buy, took this opportunity and didn't look back.
Due to a previous experience converting a French farmhouse between 2004 -2012 the couple are aware of the complexities and pitfalls that can occur whilst working on a French property.
They also mentioned the huge influence Chateau DIY had upon their decision; it was instrumental in rekindling their love affair with France.
France for Julia and Paul represents an attitude of care which they feel the UK may have temporarily lost, they are drawn to the different pace of life, the communal way of living, availability of organic produce and the climate.
When was the chateau bought?
The offer was made and accepted in June 2021 and the couple finally got the keys in February 2022.
Why this one?
In May 2021 Julia and Paul were delivering and installing a ¾ size billiard table, scoreboard, cue stand and light fitting for an American client's Chateau in Arles, South East France. A further sourcing of antiques brought them to the pays Basque region where they realised they were a stone's throw from Chateau Larribau, which they had previously viewed online.
They chose Chateau Larribau because it was it had not been modernised and was untouched. It has remained in the same French family for generations and has a history to be told. They were drawn to the fact that although it needs a lot of work internally and cosmetically, the chateau retains many original period features. Furthermore, the Chateau has 20 acres of land which is an important aspect for Julia and Paul, they are keen to spend more time understanding gardening and learning about organic farming in order to live a more sustainable lifestyle.
How has the pandemic affected you?
During the pandemic Julia and Paul have been busier than ever, Billiard Room Ltd continues to flourish, fortunately their workshop is located in a private space which enabled them to continue their work restoring bespoke items throughout lockdown.
What about spare time?
This is a journey and a project that Julia and Paul have not taken on lightly, they are enjoying every aspect of the renovation from learning about the pest control of capricorns and termites, to installing 40 new double-glazed handmade windows over a 4 day period. They have a vibrant and multidimensional energy that enables them to stay motivated and driven in the work that needs to be done for the Chateau. When not at the Chateau Julia and Paul enjoy French culture such as attending weekly fêtes in the surrounding villages, befriending new neighbours and meeting local people. Their time is also taken up by sourcing materials from brocantes, antique markets and charity shops.
What did your friends and family say?
Julia and Paul always trust their gut instinct and are lucky enough to have friends and family that trust this instinct within them. They are all excited to come and visit and see the Chateau for themselves.
Were there any hurdles?
Like with any project there have been many hurdles in purchasing the property. There were many beneficiaries on the French side of the Chateau, this made completion more complicated than was expected.
Ever homesick?
Julia and Paul have spent a lot of their time abroad and spent extensive times away installing tables all over the world. Homesickness doesn't really seem to be a notion that they take on. They are thoroughly enjoying putting down roots in France and working towards the Chateau being their base.
What is your vision for the future?
Their vision for the future is a lifestyle that is slower and stress free. They want more personal and quality time to spend with friends and family whilst connecting with the habitat around them. They are motivated to become as self-sustainable as possible so are working hard to learn about ways to facilitate this. They are open minded to the many paths the Chateau may lead them to, however currently their main priority is restoring the Chateau as sympathetically as possible.
Advice for anyone wanting to purchase a chateau?
"If you're in a position to do it and you can commit…. Just do it!"
For your fans
Julia specialises in 20th and 21st-century art with a keen eye for religious art and iconography. Julia is also a Holistic Integrated Health Coach with a huge focus on nutrition and wellbeing. Paul has an enduring love for the game of snooker and has a passion for quality furniture. They both love travelling and integrating into different cultures.
The chateau features
Chateau Larribau was built in the 1790's during the Directoire period by Roger Ducos who had it built for his daughter Rosaline when she married a local aristocrat. The rooms have an ebb and flow where they seamlessly interconnect from one another. It is an exceptionally light and bright building which gives the Chateau an airy and charming feel. The Chateau is also very manageable in size and has some beautiful original stone floors, mirrors and the most dazzling central staircase.
Inspiration for decoration
Paul's views for decoration are more purist than Julia's, and he would like the Chateau as classical as possible; however Julia wants to embed theatrical surprises into the building to evoke the unexpected. This mixture of tastes creates an exciting space and they work well at tempering each other's style. Paul's vision is able to harness the integrity of the Chateau and protect it's originality whereas Julia likes to inject an eclectic feel to bring the Chateau new life.
The Chateau is fortunate enough to still hold some of its original artwork. There is a huge 18th Century Directoire oil canvas on the wall behind the sweeping staircase which would have been incredibly fashionable during the 1790's. They are looking forward to ensuring the painting is retained and protected to the highest standard. In terms of other restoration, the couple are very thoughtful at every level. From their wealth of experience in antiques, Julia and Paul are aware that when introducing new wood, the aim is to make the join as seamless as possible to create a harmonious relationship between new and old.
Top DIY tip?
Julia and Paul recommend that people should live in the property for at least a month before changing it. They advise spending time in each room and getting to know the space and of course, use natural products when it comes to restoring.
What were your biggest challenges?
"Dealing with the bureaucracy of France!"
Favourite rooms?
Julia and Paul love the whole Chateau and the outside but if forced to choose would say the hallway, the staircase and the landings are their favourite spaces.
What is the main business for your chateau?
They are currently considering their options and are concentrating on restoring the Chateau and taking one project at a time. They are however open minded and haven't made any decisions about what the future holds for the Chateau and are trying to take an organic approach and go with the flow.
How has the show changed your life?
When asked this question, Julia and Paul stated "Ask us again in 6 months!".
Things to do locally
The Chateau is situated 1 hour from Biarritz, the Spanish border, skiing in the mountains, the Pyrenees, the Camino Trail, the sea, beautiful villages and towns in and around the Basque country.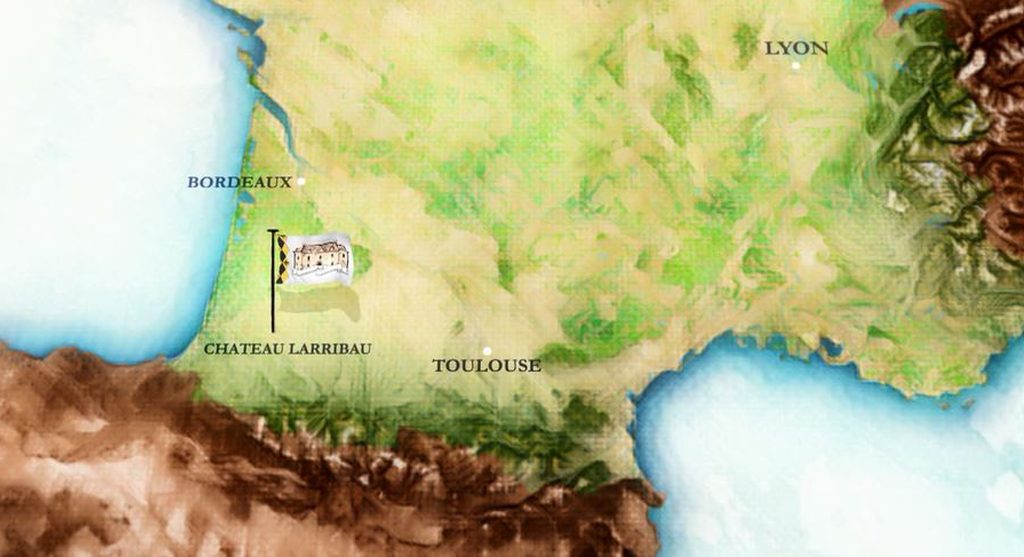 Château Larribau Website
Coming soon…
Booking Enquiries
Find out more or to book a stay – contact the owners here